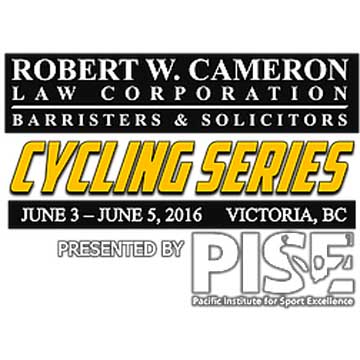 June 02, 2016 (Victoria, BC) – The B.C. Legislature will get a "royal visit" this weekend as B.C.'s criterium male and female champions will be crowned during the Robert W. Cameron Law Cycling Series p/b PISE- June 3 to June 5, 2016.
"The Accent Inns/Russ Hay's Grand Prix is the provincial championships for B.C.'s elite and masters riders," says Robert Cameron, title sponsor, "What better place to do this on than Victoria's historical Crown jewel, the BC provincial Legislature."
"Last year was the first year we moved this race from Bastion Square to Belleville Street," says Race Director Jon Watkin, "Changing venues from such a historic site was a tough-decision-made-right-decision when we saw residents and tourists, all in the heart of Victoria's inner harbour, seeing and cheering on cyclists of all ages and abilities."
The Robert W. Cameron Law Cycling Series p/b PISE 3 day event takes on an omnium format which will see the top female and male riders each carry the leader's jersey from one road race event to another. "Omnium" which is Latin for "of all, belonging to all" provides points for the race finish order – the male and female rider with the most points on Sunday wins the overall Robert W. Cameron Law Cycling Series leader jersey.
The excitement starts Friday night on Dallas Road where the EnergyLab Dallas Road Time Trial returns to the waterfront from 6 p.m. to around 9 p.m. This race-against-the clock features soloists racing at breakneck speeds of up to 60 km/hr along a 5 km route on Victoria's scenic oceanfront.
Saturday's action remains rooted in Metchosin where again, the Cheemos Perogies Cycling Classic will put road cycling warriors to the test Metchosin's gruelling hills.
And Sunday, in addition to the day-long racing Russ Hay's / Accent Inns Grand Prix events, the kid-popular and crowd-pleasing Tim Hortons Timbits Challenge returns, as well as the Victoria Volkswagen Celebrity Relay where local celebrities will put pedal to the metal along with media VIPs against Olympians and other sport stars.
"PISE is very pleased to be presenting sponsor again of the RCL Cycling Series," says PISE CEO, Robert Bettauer. "The combination of healthy, fun activities for families and opportunities for cyclists of all calibers, including the next generation of BC's and Canada's future cycling stars, is why PISE is involved. We really want to highlight all aspects of healthy living, which is so wonderfully accessible in our community through cycling."
The 2016 Robert Cameron Law Cycling Series include:
•    EnergyLab Dallas Road Time Trial, Friday, June 3 (6 pm to 9 p.m.) Dallas Road
•    Cheemos Perogies Cycling Classic, Saturday, June 4 (starting at 7:30 a.m. to about approximately 1:30 p.m.) at Liberty Road in Metchosin
•    Russ Hay's/Accent Inns Grand Prix / BC Criterium Championships – Sunday, June 5 (starting at 8 a.m. with the women's elite race at noon and the last race, the men's elite, starting at 1 pm)
•    Tim Hortons Timbits Challenge – June 5, (starting at 11 a.m. at the Legislature Buildings, free event for kids aged 3- 10)
•    Victoria Volkswagen Celebrity Bike Relay – June 5, celebrity race held before the elite races.
For More Information:
•    RCLCS website here.
•    Jon Watkin, Race Director, info@victoriabikerace.com or 250 415-3246
•    Sharon White, Media Director, sharon.white@telus.net or 250 595-2337
•    or more information on the cycling series, visit the website here.
•    Follow us on twitter here.
•    Follow us on facebook here.
•    See our amazing photos on flickr here.
•    Check out our videos here & here.