February 08, 2015 (Grenchen, Switzerland) – Australia's Rohan Dennis (BMC Racing Team), 24, has raised the bar setting a new Hour Record on Sunday of 52.491km at the Velodrome Suisse in Grenchen smashing Matthias Brändle's 51.852km, established Oct. 30 last year at the UCI World Cycling Centre in Aigle, Switzerland – official UCI release and video below.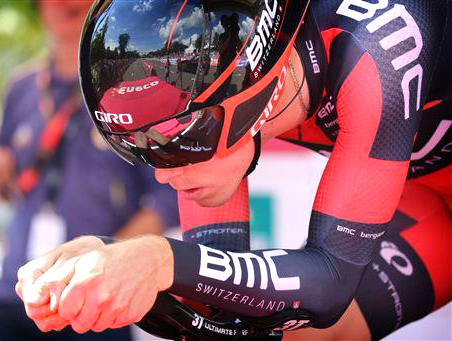 "I am pretty tired but I am very proud. The team made it easy since the Tour Down Under and it feels like almost easy although obviously it wasn't. I didn't have time to enjoy because it was a lot of pain. I hope now that the record will stay for a while," commented Dennis.
Dennis recently won the Santos Tour Down Under, and made good only one week after fellow Aussie Jack Bobridge failed in his attempt to set a new mark. Last September Jens Voigt (GER) retired and created an Hour Record buzz with his successful record attempt that led to several others announcing they would try their luck including Road Worlds and Olympic TT winner Bradley Wiggins (Sky) of TdF fame as well.
UCI Hour Record – Dennis Tops the 52 km Mark
Australian cyclist Rohan Dennis today set down a new challenge in the chase for the UCI Hour Record, covering a remarkable distance of 52,491 at the Velodrome Suisse in Grenchen, Switzerland. By accomplishing 209 laps in one hour this betters Matthias Brändle's previous mark by 639 metres.
The 24-year-old BMC Racing rider, who debuted his 2015 season with overall victory in the Tour Down Under, now enters the pantheon of UCI Hour Record greats, alongside famous riders such as Fausto Coppi, Jacques Anquetil, Eddy Merckx and Francesco Moser.
His predecessor from UCI WorldTeam IAM Cycling, Matthias Brändle (25), of Austria, held the record for three months and a week after setting the distance to beat at the UCI World Cycling Centre in Aigle, Switzerland.
Silver medallist in the London 2012 Olympic Games team pursuit, Rohan Dennis finished the 2014 season with an impressive showing at the UCI Road World Championships, in Spain, claiming the rainbow jersey in the team time trial with BMC Racing and a 5th place in the individual event.
Rohan Dennis' successful attempt follows those of Jens Voigt and Matthias Brändle last year, and the great effort of Jack Bobridge last week. The renewed enthusiasm for the UCI Hour Record is the consequence of rule changes put in place by the UCI last May, allowing riders to use track pursuit bikes.
After his attempt, Rohan Dennis said: "I am pretty tired but I am very proud. The team made it easy since the Tour Down Under and it feels like almost easy although obviously it wasn't. I didn't have time to enjoy because it was a lot of pain. I hope now that the record will stay for a while."
"Rohan's performance is absolutely stellar," commented UCI President Brian Cookson. "He is the first rider to top the 52 km mark. This performance is an indication of how good he is at the start of the season, confirming his demonstration at the Tour Down Under. Rohan is literally hitting the gas. I am delighted to see riders from outside Europe having a crack at this legendary record. I just can't wait to see more attempts coming soon both on the men's and women's UCI Hour Record. It is great news for fans of our iconic event."
UCI Press Service