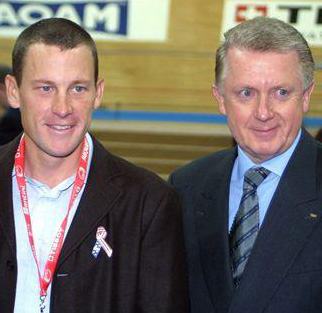 November 18, 2013 – Despite Hein Verbruggen's insistence that he has had no involvement in doping cover-ups, Lance Armstrong has revealed to the UK's Daily Mail that the former UCI President allegedly enabled the disgraced rider's elaborate cheating by encouraging him to conceal it.
Armstrong also claims Verbruggen was involved in the conspiracy cover up at the 1999 Tour de France, that involved the back-dating of a prescription that allowed him to continue racing despite a positive test.
Armstrong's statements to the Daily Mail also reveal more of the story involving his former soigneur Emma O'Reilly, who was one of Armstrong's initial public accusers.
The recent admissions of Armstrong and singling out of Verbruggen is an effort to receive a reduction of his lifetime ban from the UCI, according to the Daily Mail.
Read the full article here.