May 14, 2017 (St-Raymond, QC) – This weekend's Grand Prix Cycliste de St-Raymond near Quebec City saw U23 women's rider Ariane Bonhomme (Cyclery-4iiii Team) take the top step on the podium three times and has likely punched her ticket to the upcoming Canada Summer Games in Winnipeg, Man. this July 28-Aug. 13.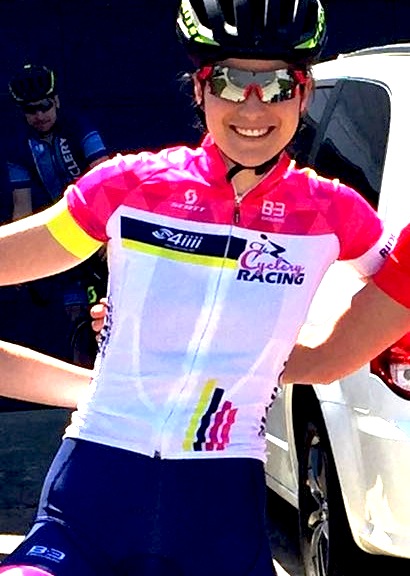 Bonhomme finished Saturday's 65.1km road race (RR) in a time of 01:50:45, 07 seconds ahead of Simone Boilard (Desjardins Ford). Then she did a hat trick Sunday, finishing first in both the 14.8km time trial (ITT) in a time of 22:28 and the 40km criterium with a time of 1:03:11. Team mate Catherine Ouellette finished second in the ITT, followed by Simone Bollard. In the crit, Bonhomme was chased across the finish by Dafne Theroux Izqueirdo (Desjardins Ford) in second and Simone Bollard in 3rd.
Senior cyclist Elisabeth Albert (ÉC Élite Apogee Sports) won overall among the women in the 65.1km road race on Saturday, stopping the clock at 01:50:17. Two riders from SAS-Macogep, Christel Ferrier Bruneau,and Frederique Larose Gingras crossed the line second and third respectively in the same time as Albert.
Among the senior men, Elliot Doyle (Garneau Québécor) won the 108.5km RR in a time of 02:37:24. Second place finisher Pierrick Naud (Rally Cycling) crossed the line in the same time as Doyle, followed by Emile Jean (Silber Pro-Cycling) in 3rd, 3 seconds back.
The winner in Saturday's RR among the junior/U23 men was Nickolas Zukowsky(Silber Pro-Cycling), stopping the clock at 02:38:16 on the 108.5km ride. He was followed by Jean Francois Soucy,(Garneau Québécor) and his brother, Marc Antoine Soucy (Garneau Québécor).
Pedal understands that weather conditions were decent on Saturday, but wet on Sunday.
Stay tuned for more results as they come in.
RR here