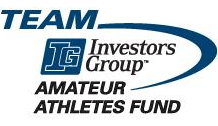 November 19, 2015 (Almonte, ON) – In keeping with their commitment to amateur sport in Canada, Investors Group is once again offering $5,000 each to 20 of our country's high performance athletes to assist with costs of training and competition. Since the program's inception in 2000, the Team Investors Group Amateur Athletes Fund has provided Canadian athletes with $1,600,000.
The bursary is open to any active senior national team athlete who meets the eligibility criteria.The bursary selection committee is made up of active and retired national team athletes and officials from AthletesCAN.
Deadline for applications is February 12th, 2016. Click here for more details and to access the application.