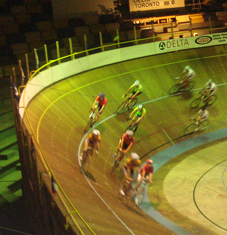 December 12, 2013 (London, ON) – The annual FCV Christmas Special race night is happening this Saturday December 14th at the Forest City Velodrome in London where the sprinters will take center stage, with an all categories Series of Sprint tournaments. "A" "B" and "C" groups will get a chance to show their speed. There will be endurance races as well as Chariot races for all Categories.
Adult Admission $10.00, Seniors $5.00, Kids always FREE.
For more information about track cycling, FCV youth programs and Introductory classes please go to our website www.ForestCityVelodrome.