May 22, 2013 (Glengarriff, Ireland) – Canada's Remi Pelletier-Roy (Can) Canadian National Team finished second today in the 153km Stage 4 from Listowel to Glengarriff at the An Post Ras in Ireland. Pelletier-Roy finished with the same time as the winner, Kirill Pozdnyakov (Rus) Synergy Baku. Fellow Canucks Garrett McLeod placed 21st, Stuart Wight was 83rd, Kris Dahl came in 84th and Alex Cataford was 96th.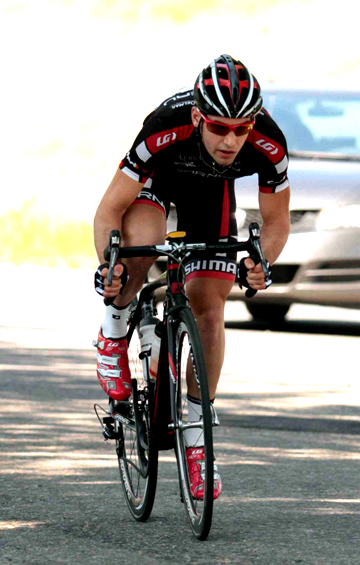 Pelletier Roy now sits fifth in the GC at 18 seconds behind race leader Marcin Bialoblocki (Pol) UK Youth Pro Cycling. McLeod is sitting 17th overall followed by Dahl in 67th, Wight in 79th and Cataford in 86th. We caught up with him for his comments on his stellar day.
"I am really happy with that first good result here. I've been pretty active in the first three stages without being able to get a good result at the end since I was not used to 150 guys finishing in such narrow roads. Today was a more selective course with eight climbs including three cat-2s and one cat-1 climb.
"A main group of about 20 riders broke away early on and I was able to bridge solo to them over one of the climbs. Then I attacked the group and was in the chase for the remaining three front guys. I finally bridged on that group too and we rode together getting up to 2:25 on the nearest chase group.
"Since I was virtually in yellow I changed my mind and started riding strong, giving up a bit for the stage win. I'm still really happy to reach 2nd place. We lost a bit of time in the last few kilometers.
"So I'm now sitting 5th on GC at 18 seconds with 4 stages to go which is a quite interesting position to be at this point. I received lots of cheering from back home and it motivates me to ride even harder!
An Post Ras concludes this Sunday with a time trial on the final Stage 8.
Results (brief)
Stage 3 – May 21 – Nenagh to Listowel – 141.1km
1. Sam Bennett (Irl) An Post Chain Reaction 3:23:29
2. Morten Oellegaard (Den) Blue Water Cycling
3. Marcin Bialoblocki (Pol) UK Youth Pro Cycling
4. Joshua Hunt (Gbr) UK Youth Pro Cycling
5. Owain Doull (Gbr) Great Britain National Team
6. Nicholas Vereecken (Bel) An Post Chain Reaction
7. Benjamin Edmuller (Ger) Arbo Gebrder
8. Kristofer Dahl (Can) Canada National Team
9. Rico Rogers (Aus) Synergy Baku
10. Tim Mertens (Bel) Belgium National Team
33. Alex Cataford (Can) Canadian National Team
40. Ryan Aitcheson (Can) Astellas Oncology
52. Garrett McLeod (Can) Canadian National Team
68. Remi Pelletier-Roy (Can) Canadian National Team
74. Stuart Wight (Can) Canadian National Team
Stage 4 – May 22 – Listowel to Glengarrif – 153km
1. Kirill Pozdnyakov (Rus) Synergy Baku 3:28:17
2. Remi Pelletier-Roy (Can) Canadian National Team
3. Ben Greenwood (Gbr) Scotlish National Team
4. Richard Handley (Gbr) Rapha Condor JLT
5. Daniel Foder (Den) Blue Water Cycling 0:28
6. Simon Yates (Gbr) British National Team
7. Connor McConvey (Irl) Synergy Baku
8. Marcin Bialoblocki (Pol) UK Youth Pro Cycling
9. Rasmus Guldhammer (Den) Blue Water Cycling
10. Roger Aiken (Irl) Prague Charter Team
21. Garrett McLeod (Can) Canadian National Team 2:07
82. Ryan Aitcheson (Can) Astellas Oncology 12:12
83. Stuart Wight (Can) Canadian National Team
84. Kristofer Dahl (Can) Canadian National Team
94. Alex Cataford (Can) Canadian National Team 19:54

GC After Stage 4
1. Marcin Bialoblocki (Pol) UK Youth Pro Cycling 13:05:29
2. Connor McConvey (Irl) Synergy Baku
3. Rasmus Guldhammer (Den) Blue Water Cycling
4. Richard Handley (Gbr) Rapha Condor JLT 0:18
5. Remi Pelletier-Roy (Can) Canadian National Team
6. Martin Hunal (Cze) Sparta Praha 0:42
7. Simon Yates (Gbr) British National Team 0:46
8. Daniel Foder (Den) Blue Water Cycling
9. Roger Aiken (Irl) Prague Charter Team
10. Shane Archbold (Nzl) Belg. An Post Chain Reaction 1:39
17. Garrett McLeod (Can) Canadian National Team 2:25
67. Kristofer Dahl (Can) Canadian National Team 12:30
68. Ryan Aitcheson (Can) Astellas Oncology
79. Stuart Wight (Can) Canadian National Team 15:53
86. Alex Cataford (Can) Canadian National Team 20:12