January 28, 2016 (Alma, QC) – The building housing a bike shop in the town of Alma caught fire very early yesterday morning reports Radio Canada. The owner of Alma Bicycle, Damien Harvey, lives upstairs from the shop and had to jump from a second-storey balcony to escape the flames. Harvey, who sustained minor injuries in his escape, was also the one who called the fire department.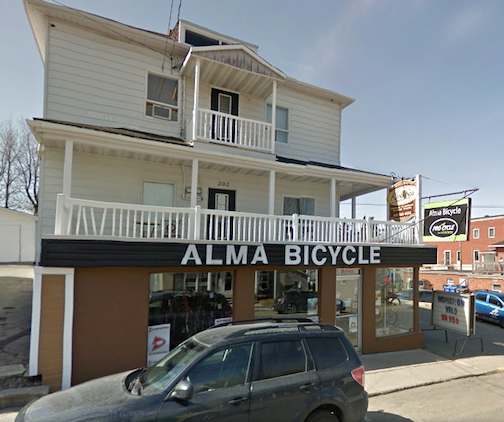 The bike shop dates from 1963. Initial estimates put losses at some $300,000 and the building is now a total loss. The cause of the fire is not yet known.
Alma is a town of about 30,000 on the eastern shore of Lac St. Jean, some 230km north of Quebec City. The town is also a hotbed for cycling, in part due to Le club de Vélo de Montagne Cyclone d'Alma. Among its more notable members are Léandre Bouchard, Catherine Fleury, Rébecca Beaumont, Rachel Pageau, Catherine Hamel, Sabrina Lindsay,  Pierre Fleury, and Pascal Harvey. Bouchard and Fleury are currently members of the Canadian MTB Team, while Beaumont and Pageau have competed for Canada at World Cup and World Championship events in past years.
Pedal joins the cycling community in hoping that Harvey and Alma Bicycle will soon recover from this tragedy.
Radio Canada report (French) here.