November 27, 2011 (Bolton, ON) – A slick course combined with damp weather created an environment that favoured experienced riders at Sunday's Albion Cross.  Organized by the Cycle Solutions/Angry Johnny's Cycling Club, the final stop of the Southern Cup cyclocross series saw Julie Marceau (Lapdogs Cyling Club) and Nathan Chown (Team CF) take not only the elite division wins, but also capture the overall season's points races.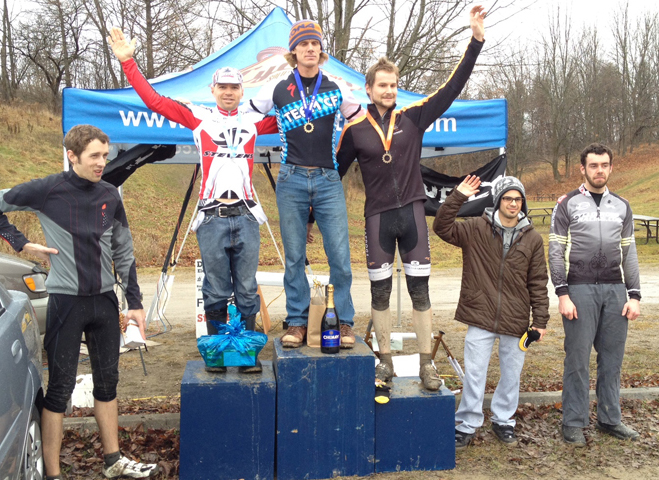 "The older (racers) are used to riding in adverse conditions," explained Peter Mogg (Stevens Racing p/b The Cyclery).  "We've been through a lot of different conditions over the years.  Some of the younger guys don't see this stuff a lot.  I've raced a lot of times in the wet, crappy conditions."
Elite Women
Briana Illingworth (True North) went out hard and led the small field of senior and master women through the first lap, but Marceau quickly caught up.  The pair rode together before Marceau attacked on the third lap and rode to an uncontested win.
"She passed me in the off-camber chicanes," said Illingworth of the eventual winner.  "I took an outside line, she saw that I had left the inside line open and she very smartly took it.  That was pretty much it. I wasn't able to stay on her wheel after that.  I was just battling to hang on to second place (overall) which happily I just managed to do."
Marceau has been on a winning streak since winning the women's 30+ category at the recent national cyclocross championships.  Today was her fourth win in succession. "I think when you have the (national champion's) jersey everything is easier because you don't feel the pain.  Just the feeling to win something like that; you're on a high for a couple of weeks after."
Winning the overall Southern Cup has motivated the 40 year-old chef to do more 'cross racing next year, starting with the master's world championships in Louisville, Kentucky in January.
Elite Men
Peter Mancini (EsteemTraining.com) got the holeshot and led the initial part of the race before giving way to Mogg.  Chown was slow to start, thanks partly to his rear brake not being hooked up, necessitating a bike change the first time through the pits, and also due to lingering effects from a recent bout of bronchitis.
"It took me a while to get warmed up," said Chown.  "But once I got going and hacked up a couple of good horks it actually opened up pretty nice."  By the end of the second lap Chown and Mogg were leading the race with a twenty-second gap over Mark Brusso (Lapdogs Cycling Club) and Mancini, who had faded following his fast start.
"After lap three I felt really, really good," related Chown.  "Then I started to try and put a little pressure on Pete (Mogg) just to see how he would react.  It took a while to shake him.  He was riding pretty good."
The leading pair were evenly matched through five laps, but Chown's efforts eventually created a gap that Mogg couldn't close.  "He's a smart racer," said Mogg in reference to Chown, "and he keeps punching it out of every corner once he gets a gap so you've got to do the same thing to keep him in check.  Once he had the gap it was going to be really hard to bring him back."
Chown made the most of the slick conditions that complement his powerful style, and rode to a 35-second win over Mogg, with Brusso well back in third.
With both Zach Hughes (Norco Factory Team) and Jared Stafford (Ride With Rendall) failing to take the start, Chown had no problems securing his first overall series win.  "It wasn't something I was thinking about at the start of the season, but it's nice to win it for one year."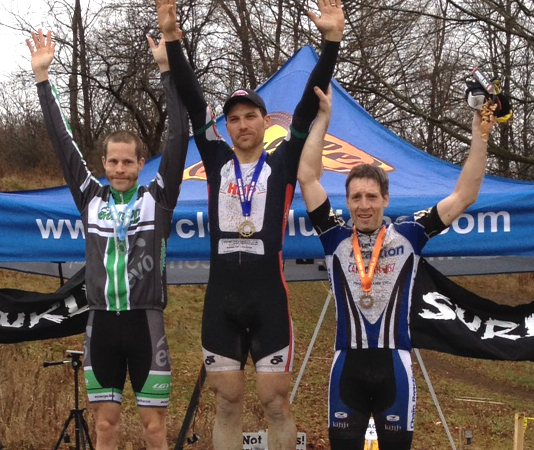 Master Women
One of the better battles of the day took place between Lori Kofman (Chain Reaction/Molson 67) and Aly Armstrong (Team CF). "We were fighting back and forth the whole time," stated Kofman.  "It was a great race because we kept the pressure on each other."  On the penultimate lap Kofman was able to eke out a gap which grew to 25 seconds by the finish.
"Lori came out strong but so did I," explained Armstrong.  "Towards the end I just took a wrong line and couldn't power out of the corner and she caught it right and got enough of a gap on me and that was it."  Armstrong is off to the NBX Gran Prix in Warwick, Rhode Island, next weekend, and has the master's world championships penciled in for January as well.
The win sealed the overall Southern Cup for Kofman, who is looking forward to 2012. "I'm going to do it again.  I'm going to resume training with my new coach, who has ramped me up, so I should do better."   Her new coach?  "Mikaela Kofman, my daughter (and U23 MTB XCO national champion)."
Master 1 Men
Andrew Croutch (The Hub Race Team) dominated a strong M1 field to complete a stellar season.  "It was a good course for me," said Croutch.  "Flat, fast, muddy.  Everything I like."  The 40 year-old Kitchener resident won every Southern Cup race he entered this year.  "I guess when you win it keeps you motivated. I love 'cross and I'm kind of sorry the season is over."
CX Notes
Although he is 35 years old and eligible to race as a master, Mogg has been racing elite this year, and plans to do so again in 2012.  "The goal is the master worlds in Kentucky (in 2012 and 2013).  Racing against the elite guys gives me a bit more competition and somebody else to chase and ups my game a lot more."
Colin Busby (Chain Reaction/Molson 67) snapped his seat post on the second lap, but kept riding, earning special recognition and a nice bag of swag from race director John Bates.
Bates is hopeful of hosting the 2012 Ontario 'cross championships.  With the assistance of Chico Racing and a bit of logistical tweaking he also feels positive about his chances for organizing a future national championship.
Final Southern Cup Overall standings HERE.
Results
Beginner Male – 20.31km – 7 laps  
1. Niles Vaivars (Independant) 0:45:34
2. Nathan Poulton (Independant) 0:58
3. Ian Gartley (Independant) 2:15
4. Dave Brown (Evolution Cycles) 2:43
5. Michael Clark (Independant) 3:58
6. Brett Liersch (Hamilton Cycling Club) 5:00
7. Scott Packham (Team Silent Sports) -2 laps
DNF Matt Faulkner (Independant)
Under 15 – 20.31km – 7 laps
1. Quinton Disera (Team Hardwood/Trek) 0:43:09
2. Charlotte Creswicke (Independant) -2 laps
3. Roland Stimpfig (EsteemTraining.com) -2 laps
DNF Skye Follas (EsteemTraining.com)
Under 17 – 20.31km – 7 laps  
1. Tyler Lee (St. Catharines Cycling Club) 0:42:59
2. Stefan Milosevic (Chain Reaction/ Molson 67) 1:45
3. Siobhan Kelly (CoachChris.ca / Multisport-Zone) -1 lap
DNF Connor Nevin (Independant)
Junior Men – 20.31km – 7 laps   
1. Peter Disera (Cycle Solutions/Angry Johnny's CC) 0:50:49
2. Cael Wishart (Independant) 2:31
3. Tommy Waldeck (ShortHills Cycling Club/ Race Team) 4:25
Master Women – 23.08km – 8 laps   
1. Lori Kofman (Chain Reaction/ Molson 67) 0:49:28
2. Aly Armstrong (Team CF) 0:25
3. Rachael Mirvish (Wild Betty's) 3:55
4. Lesley Chown (Team CF) 5:54
5. Leslie Greene (Chain Reaction/ Molson 67) -1 lap
6. Korina Besednik (Darkhorse Flyers) -1 lap
Master 3 Men – 20.31km – 7 laps  
1. Tim Marshall (Independant) 0:43:10
2. Scott Morrow (Morning Glory Cycling Club) 1:29
3. Stephen Gregory (Independant) 1:46
4. Kevin Higgins (Morning Glory Cycling Club) 1:48
5. Chris White (EsteemTraining.com) 1:54
6. David Moore (Darkhorse Flyers) 1:59
7. James Cook (Canadian Cycling Magazine) 2:56
8. Pary Bell (Darkhorse Flyers) 2:56
9. Martin Grimes (Rail City Race Team) 2:59
10. Bryant Cook (Cycle Solutions/Angry Johnny's CC) 3:09
11. Matthew Pioro (Lapdogs Cycling Club) 3:39
12. Rob Polano (Independant) 3:54
13. Martin Mueller (Independant) 4:10
14. Rob MacEwen (Lapdogs Cycling Club) 4:32
15. Stephen Chester (Darkhorse Flyers) 4:51
16. Mark Montgomery (Lapdogs Cycling Club) 5:48
17. Robert Massicotte (CyclepathMarkham.com) 5:49
18. Richard Pickering (Midweek Cycling Club) 6:05
19. Warren Blatt (Independant) 6:10
20. Bill Packham (Lapdogs Cycling Club) 6:47
21. Scott Wishart (Ontario Masters Cycling Association-Waterloo CC) 6:57
22. Erick Begin (Midweek Cycling Club) 7:55
23. Dan Marshall (CyclepathMarkham.com) -1 lap
24. Francis Morrow (Independant) -1 lap
25. Tony Whetham (Impala Bicycles) -1 lap
26. Henry Au (Independant) -1 lap
DNF David Tompkins (The Hub Race Team)
DNS Glenn Goodwin (Cycle Solutions/Angry Johnny's CC)
Master 2 Men – 20.31km – 7 laps  
1. Kevin Tearle (Team CHCH) 0:50:31
2. William Logie (Cyclepath Oakville Race Team) 0:08
3. Bob Bergman (Canadian Cycling Magazine)
4. John Provart (Chain Reaction/ Molson 67) 0:37
5. Peter Kofman (Chain Reaction/ Molson 67)
6. Mark Sugita (Independant) 0:51
7. Andrew Rucklidge (Wheels of Bloor)
8. Gabe Faraone (ZM Cycle & Fitness Cycling Club) 1:54
9. Neil Armstrong (Team CF) 2:18
10. Corey Tkachuk (Darkhorse Flyers) 2:29
11. Edmond Mellina (Lapdogs Cycling Club) 3:12
12. Rob Cheskey (Cyclepath Oakville Race Team) 3:18
13. Giles Marshall (Chain Reaction/ Molson 67) 3:25
14. Jeff Ker (Kurzawinskicoach / Six S ERP Consulting) 4:18
15. Chris Yeates (Cycle Solutions/Angry Johnny's CC) 4:31
16. Brien Ross (Total Sports the Bike Shop) 4:52
17. Garnett Abbey (Cyclepath Oakville Race Team) 5:46
18. Elgar Vaivars (Independant) 6:15
19. Scott Enns (Lapdogs Cycling Club) -3 laps
DNS Angus Botterell (Midweek Cycling Club)
Master 1 Men – 28.62km – 10 laps  
1. Andrew Croutch (The Hub Race Team) 0:58:15
2. Tristan Smit (Evolution Cycles) 1:22
3. Paul Greene (Chain Reaction/ Molson 67) 1:47
4. Mark Pagell (Independant) 1:53
5. Ed Makarchuk (Sound Solutions) 2:16
6. Jamie Sprules (Chain Reaction/ Molson 67) 2:26
7. Steve de Boer (Team 905) 4:12
8. Stephane Marcotte (Darkhorse Flyers) 4:23
9. Graham Jones (Sweet Pete's) 4:25
10. Lorne Anderson (Lapdogs Cycling Club) -1 lap
11. Rodney Merchant (Independant) -1 lap
DNF Ted Ingram (Cycle Solutions/Angry Johnny's CC)
DNF Edgars Apse (Darkhorse Flyers)
Elite Women – 23.08km – 8 laps   
1. Julie Marceau (Lapdogs Cycling Club) 0:54:45
2. Briana Illingworth (True North Cycles) 1:31
Elite Men – 28.62km – 10 laps   
1. Nathan Chown (Team CF) 0:57:35
2. Peter Mogg (Stevens Racing p/b The Cyclery) 0:35
3. Mark Brusso (Lapdogs Cycling Club) 3:09
4. Peter Mancini (EsteemTraining.com) 4:25
5. Jeff Moote (CyclocrossRacing.com) 4:37
6. Michael Aston (AdrenalineRacer / ToWheels) 5:13
7. Bret Waghorne (ZM Cycle & Fitness Cycling Club) -1 lap
8. Colin Busby (Chain Reaction/ Molson 67) -1 lap