June 27, 2013 (Calgary, AB) – Flood waters from the Bow River and Elbow River are now receding after historic flooding created havoc recently in southwestern Alberta. Many areas were affected with a state of emergency declared; thousands residents were evacuated while countless homes and businesses were affected including some bike shops.
Fortunately Calgary's Glenmore Velodrome, built on a hill, was apparently largely unaffected by the deluge. A BMX track in Red Deer seems to have flooded and at least one clubhouse suffered damage. The well-known and popular TransRockies had to cancel its Rundle's Revenge event and we posted a TR update here. We are still trying to get news on Calgary bike shops, but preliminary reports suggest most of them weathered the storm fairly well.
According to Andrew Gomez, president of Revolution Sport Supply in NE Calgary that was unaffected, the Macleod Trail, one main artery to Calgary's downtown, is now open. "We now have access to Macleod Trail so things are improving slowly but much of the surrounding land I saw while driving it was pulverized by the water," said Gomez. "I believe many bike shops have not been affected but some had water damage."
We caught up Heather Lothian, Executive Director, Alberta Bicycle Association based in Edmonton who told us, "I know some bike shops are open, but unsure of the details of them all." Second hand reports received by Pedal speak of only minor damage at some stores. "With the subsiding of the rivers, Bow Cycle & Sports is returning to regular hours," reads a June 24 notice on the Bow Cycle website.
Lothian directed us to an electronic billboard of mountain bike trails in the Banff, Canmore, Calgary, Kananaskis, Lake Louise and other areas. This billboard was mainly red with notices of trail closures when we checked Wednesday afternoon.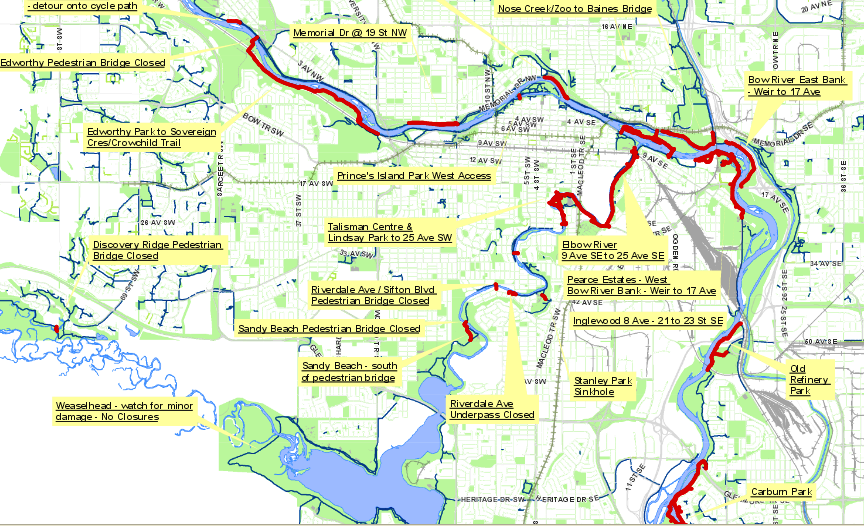 The Canmore Nordic Centre (CNC) which is also heavily used by mountain bikers is listed as "open", with a message noting that: "Trails at the Canmore Nordic Centre will re-open for public use on Sunday, June 23! Please note that many trails were impacted by recent flooding and that natural hazards should be anticipated. Some hazards have been marked, others have not. Please use caution at all times. The mountain bike skills park will remain closed indefinitely: CNC." Some areas are apparently drying out quickly, but volunteers are needed to fix and rebuild trails.
Trail report here.
Lothian told us that "Glenmore Velodrome is on a hill so it was not flooded out, but [Calgary] has closed all parks as far as I know." This suggests that the facility is intact, but inaccessible until Calgary reopens city parks.
"Calgary BMX track is up and running and as far as I know got through unscathed, Red Deer was flooded and Airdrie's club house flooded but I believe the track will be open soon if it's not already," Lothian continued.
Calgary officials are warning the public to stay away from river banks: even though water levels have receded, the earthen banks can remain very unstable. "Due to the recent flooding, numerous pathways along the rivers have been damaged, some severely. As inspections are completed, pathways that are deemed hazardous will be closed to the public and detours provided where possible. Below are the pathways that have been inspected and closed. This list is not complete and will likely increase as inspections are completed," notes Calgary's web portal. A map of bike path closures is available here.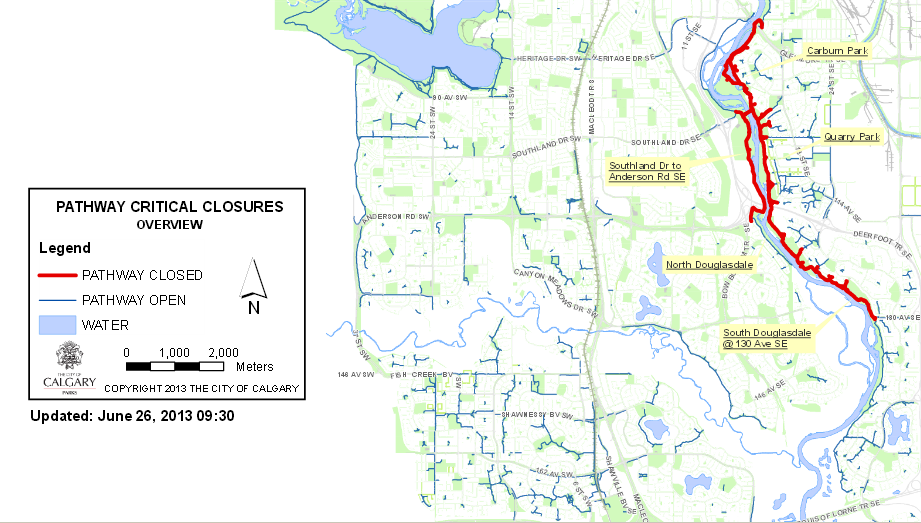 "This event will also have a huge impact on how Calgarians get around in the short-term and possibly, for cyclists, the medium-term, as many of Calgary's key cycling routes include pathways running along our waterways," reads a message on Bike Calgary's website. "We will get a better idea of the condition of these facilities as water levels begin to drop."
"The City has updated their park & bike page.  5 of the 7 existing Park & Bike lots are on pathways that are now unsafe or destroyed.  13 additional park & bike (or walk/carpool) sites have been identified.  They are temporary," reads another Bike Calgary posting.
A map of temporary Park & Bike sites is available here.
Donations to support the flood victims can be made here.
More information will be posted as it becomes available.