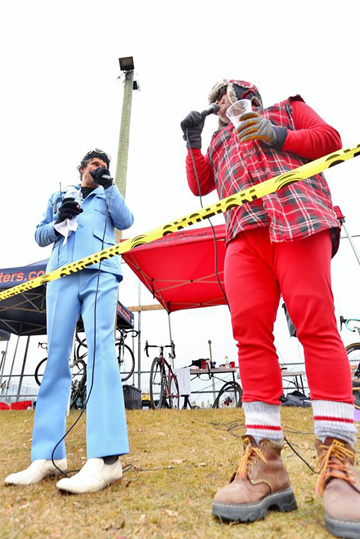 Beans & Barley CX p/b Terrascape Racing
Saturday, October 29 / Shaganappi Park – Calgary, AB
The 11th annual Beans & Barley race was once again held at Calgary's Shaganappi Park and offered a perfect venue for one of the most highly attended races on the calendar. With the impressive wooden fly-over returning as one of the many course features and a creative mix of Halloween spirited kits on display, it was a day for the on-lookers to enjoy.
The closing laps saw a dramatic change in the lead as a untimely crash allowed Heise to surpass Koenig and create a gap she would successfully maintain for the eventual win. Behind, Koenig narrowly held off a hard charging Denise Hille (Cyclemeisters/Bow Cycle), as they claimed the remaining podium spots.
With Britton moving through the field in the early laps to join the other three, the lead would quartet remained intact until the final half-lap of the hour long race. It would be the American, Cresap, who would inevitably deliver the winning dig to pull out a few seconds lead, which he would hold onto for the win. Behind a three-up sprint unfolded as Sutton would narrowly get the better of Britton for second and third respectively.
Results here.
Deadgoat Super-'Cross p/b Deadgoat Racing
Sunday, October 30 / Cochrane Agricultural Grounds – Cochrane, AB
The three would stay within sight of one another all day on the exposed grass course, which offered up one particularly steep pitch that only a select few would successfully conquer on the bike. Koenig would eventually put her stamp on the season and race with the win, followed in closely by Heise and Hill once again in third.
Looking for his first 'cross victory of the season, it would be a highly motivated Bunnin that finally pulled away and gradually increased his gap to the highly consistent Sutton, who would go on to claim second on the day as Yexley successfully held off a hard charging group for third.
Results here.