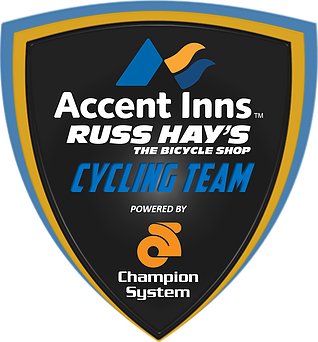 February 12, 2016 (Victoria BC) – Champion System, a worldwide leader in custom technical apparel has become the new presenting sponsor and official technical apparel provider of the Accent Inns/Russ Hays Cycling Team for the 2016 racing season. The official team name will be the "Accent Inns / Russ Hays Cycling Team powered by Champion System."
"Most of us at Champion System are competitive athletes ourselves, so we share Accent Inns/Russ Hay's Cycling Team's passion for cycling." Says co-founder, Scott Kaylin. "We are inspired by their dedication towards developing young riders and are honored to support the team with the kind of technical cycling apparel that will allow them perform at an optimal level. We are looking forward to a successful 2016 together!"
Champion System will offer a a broad range of high performance cycling apparel to a recognized team that has created National Champions and transitioned the professional cycling careers of some Canada's best.
The Accent Inns / Russ Hays Cycling Team powered by Champion System will feature some of Canada's best elite amateur racers in road and cyclocross. As part of the team's extensive training, the racers will exclusively wear and test a variety of gear and continue to help Champion System evolve and improve its product mix.
"In British Columbia, we race and train in all kinds of racing conditions: rain, hail, snow, hot, cold…you name it.." explains General Manager, Jon Watkin. "The team is so grateful to have an apparel partner that has such a broad selection of products that ensure maximum comfort, but with the highest quality and performance. Our racers will appreciate that they will be wearing the same gear that pro's are wearing."
NEW TEAK KIT DESIGN REVEALED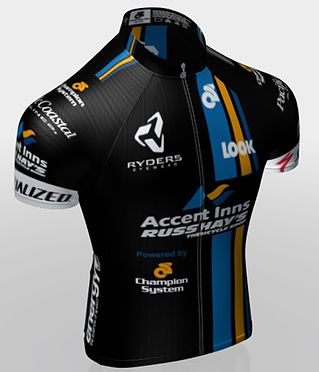 The new 2016 team apparel design features a new bold black look with blue/orange stripes and white cuffs. The kit was designed using Champion System's 3D Design Center which allows custom clothing clients to design their kit using tools that let them add colors, logos, shapes, and patterns in seconds. "We had so much fun designing our new kit and are thrilled at the outcome of the final design." explains Jon Watkin.
The team will be using some of Champion System's latest in gear such as the Razor Bib Shorts, Apex Racesuit, Apex Windguard & Thermoshield Jackets and Vests.
"In the sport of competitive cycling, having the right gear at the right time can make a huge difference between winning and losing." Continues Jon Watkin. "Mother nature can hit us with almost anything, and our guys will be ready for it."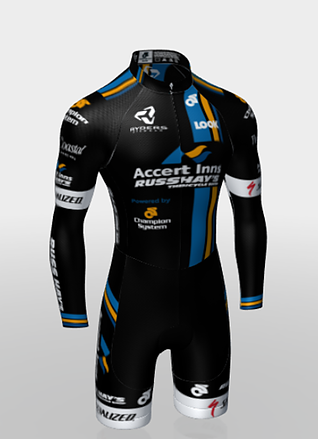 The Accent Inns Russ Hay's Cycling Team powered by Champion System is one of Canada's top amateur development cycling teams with emphasis on the development in road, track, and cyclocross. The team competes in the top races in Western Canada and the United States Pacific Northwest. Since its inception in 2012, the Accent Inns Russ Hay's Cycling Team p/b Scotiabank team has enjoyed some noted results. This included winning the 2013 Canadian National Time Trial Championships, 2 x Top Ten's at 2014 Canadian National TT Championships, Wins in US Races like Tour of Walla Walla, Mutual of Enumclaw, and Tour de Boom, numerous provincial TT, Road, and Criterium championships, and podium placing at the National Cyclocross Championships. Many team racers have been chosen to represent Team Canada in various Cycling Canada projects or have transitioned to the professional ranks of the sport.
To make a tax deductible personal donation to the team, please click here.
For the latest news and updates, visit the website at www.russhaysracing.com