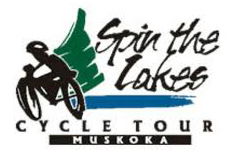 March 14, 2013 (Huntsville, ON) – Registration is now open for the Spin the Lakes Cycle Tour, the first of four Ontario 'Prima Fondo' Share the Road rides held in partnership with GranFondo Canada.  The event will be held at Hidden Valley Resort in Huntsville on May 25, 2013.
"For eight years, the Spin the Lakes Cycle Tour has attracted thousands of cycling enthusiasts to the Muskoka region. Share the Road has had the privilege of associating with the event for the past 3 years. As such, we knew that it was the perfect candidate for the Prima Fondo Ride series, when we were establishing our GranFondo Canada partnership this year," said Eleanor McMahon, Founder and CEO of the Share the Road Cycling Coalition.
"Jim Brendish, along with a local team of generous partners and sponsors have worked tirelessly to create a successful Ride experience – and give back to the community at the same time. This community partnership is an excellent example of what it takes to make a cycling event successful, and we are delighted  — along with GranFondo Canada – to partner with them once again this year," McMahon added.
"We are very excited about this year's event,  the opportunity to support Share the Road, and the new partnership with GranFondo Canada. Returning riders will experience the same route and beautiful scenery that have made this Ride so popular, and they will be treated to an enhanced experience as a result of the expertise of GranFondo Canada. Their reputation is well earned given the success of their events in Western Canada. We're pleased to partner with them in their first season in Ontario," said Spin the Lakes organizer and Committee Chair Jim Brendish.
The Spin the Lakes Ride is one of four powered through a partnership between Ontario's cycling policy and advocacy organization the Share the Road Cycling Coalition and cycling event company GranFondo Canada. Two other Rides will be held leading up to the GranFondo Niagara on September 14, GranFondo Canada's first event in Ontario: the Wheels for Wellness ride benefiting the Queensway Carleton Hospital in Ottawa on June 15th and the Minden 150 on August 10th. One ride will follow it, Greg's Ride on September 29th in Milton held in memory of OPP Sgt. Greg Stobbart, Ms. McMahon's husband, killed while on a training ride in Milton on June 6, 2006.
"We look forward to working with the local organizing committee on this year's Spin the Lakes event, in support of cycling in Huntsville and in Ontario," said Dean Hachey, Director of Business Development, GranFondo Canada. "Our organization's focus is on the Rider experience and as such we look forward to lending our expertise to the already excellent framework in place for this ride. Enhancements like the Family Fundo on Friday evening are designed to broaden the Ride's appeal and encourage families to travel to Huntsville, creating a weekend experience and ideally attracting more tourists to the area," Hachey added.
The GranFondo Canada Family Fundo Kids Ride will be held on Friday, May 24th, also at Hidden Valley Resort starting at 5:30 p.m. Registrants for the next day can pick up their ride kits and information at this event. Admission to  the Family Fundo is free. Highlights include a fun bike course, lessons on bike safety and bike maintenance, and a post-ride BBQ. Participants receive an event t-shirt and finisher's medal.
Share the Road and GranFondo Canada share a commitment to getting more people on bikes and to growing cycling as an opportunity to improve public health, the environment, and economic development through bicycle travel: "We anticipate that cyclists participating in these rides will be training over a million kilometers this summer – not only in their own communities but through travel to other parts of Ontario. This will serve to improve their own health and well being – as well as the environment and the economy of our province," Hachey and McMahon noted.
Prima Fondo events are GranFondo-style community rides held in advance of GranFondo Canada's larger events. Funds raised in Hunstville will support the Share the Road Cycling Coalition, which works across the province to advocate for increase cycling infrastructure funding and improved safety for all road users.
"Our organization's mandate is to enhance the livability of communities in Ontario by improving their capacity to become more bicycle friendly. Bike Friendly Communities are connected, livable communities whose economies are strengthened through investments in cycling infrastructure and initiatives that in turn encourage residents and visitors to travel and recreate by riding their bike," McMahon noted.
"We have approached Town officials about the possibility of hosting a local Bike Summit here in the near future — as we have done in close to 20 communities across Ontario. These events are a great opportunity to engage local residents, businesses and decision makers on how to enhance cycling, improve safety and encourage people to ride. With the excellent reception we have had, we look forward to hosting a Summit in Huntsville in the months to come," McMahon added.
For more information on the Ride or to register visit the Share the Road website HERE or Bike Muskoka's website HERE.