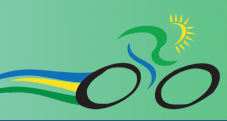 date] (Killington, Vermont) – Registration is now open for the 2013 Killington Stage Race! We had a great turnout for the third year of this legendary New England stage race.  The 2012 KSR was a great success and as a result we expect even more racers to take the starting line in 2013.  We will be offering three days of racing this year and have made a few changes, so please read on to learn more.
Click HERE to register.
Saturday's Stage 1 is on the historic KSR circuit race course which features a fast and fun 18-mile rolling course that travels through the beautifully preserved President Calvin Coolidge Historic homestead and past the former summer "White House" in Plymouth Notch (top photo) as well as past beautiful mountain lakes.  This stage includes a K/QOM and Sprint Hot Spot and has a fast run into the finish which often results in exciting pack finishes (photo below).
For 2013 the road race will move to Sunday.  This is the "Queen Stage" of the KSR which features a 61-mile single lap road race.  This course is classic Vermont, with some beautiful twisty back roads, the final Sprint Hot Spot, a challenging climb mid-way through the race with the first K/QOM near the summit, a short dirt road section, concluding with the ascent of East Mountain Road AKA "The Beast".  Which offers a second K/QOM near the top of the climb.  The final push to the finish (we hope not literally) will take racers to the K1 base area at the summit of the Killington Access Road.
Final GC will be decided on Stage 3 by Monday's 11-mile race against the clock.  Stage 3 starts at our stage sponsor Long Trail Brewery. The course takes racers past lush green hills and sprawling wetlands. The course is mostly flat with a few short grinding hills to add to the challenge. This is an "unlimited" ITT so bring your fastest TT equipment as shown below.
Let the fun begin!
For 2013 we have added a Junior field based on popular demand.  We are once again offering a separate field for male Cat. 2 racers.  This will provide an opportunity for Cat. 2s to earn some upgrade points early in the season so they can make the move up to Cat. 1 well before the Green Mountain Stage Race on Labor Day weekend.  For your less hardcore racing and riding friends we will be offering a citizen's circuit race after a 2 year hiatus. For the first time we will offer a Gran Fondo on the road race course.  This is a great opportunity for non-stage racers to get a real feel for the challenge of this exciting and beautiful course.
The top 3 on GC and the KOM & Sprint winners – Sporting Champion System Leader's Jerseys
We are also rolling out a few changes on the registration front for 2013.  All racers who enter the KSR by March 25th will save $10 off the regular registration fee.  We know that many racers are reluctant to commit to a three-day stage race months in advance.  To help reduce your reticence everyone who enters by March 25th will be eligible to receive an 85% entry fee refund "no questions asked" as long as you request it by April 30th.   So, to summarize: register by March 25th and save $10 and have some "insurance" should you decide to withdraw by April 30th.  Don't miss out on these early registration incentives – register now! Please be sure to tell your teammates and friends as well so they do not miss out on the chance at early registration as well as this year's race.
Relaxing prior to the start of Stage 3 in their Champion System Jerseys
While it is still winter here in Vermont we are working hard to make the 2013 KSR the best ever.  We have some great sponsors working with us to make the KSR possible.  Champion System will be back again this year making our custom leader's jerseys!  The crew at Champion System have been a great supporter of the KSR over the last 4 years.  If you need team clothing Champion System makes great stuff on time and can make you what you need really fast as well if you are a little off the back in getting your order in.  The team from Bonk! support will be on hand to help you with your hydration needs during the first 2 stages.  They make it easy to stay hydrated even if your team does not have feeders.  Of course Butch and the SRAM guys will be on hand to help you out if you have service needs during the event.  Get the same quality service as the pro's at big races around the US and Canada.
If you are looking for some additional motivation to help you put in your training miles then sign-up now for the 2013 KSR.  Registration is open on BikeReg.
We look forward to having you compete at this year's Killington Stage Race.