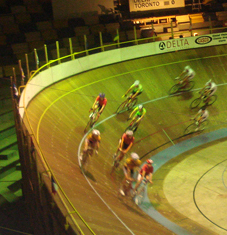 February 18, 2013 (London, ON) – The Forest City Velodrome is pleased to announce that the 2013 FCV Youth Championships p/b Clif Bar are scheduled for Saturday February 23rd. The FCV will open for warm up at Noon, with racing to begin at 1pm. Entry Fee is $20.00 – Categories as follows:
Under 19 (boys & Girls)
Under 17 (Boys & Girls)
Under 15 (Boys & Girls)
Under 13 (Boys & Girls)
Under 11 (one Category)
The Omnium style event will include 5 events, Standing Start Lap, Flying Lap, Standing start 500m, flying 500m and standing start Kilo.
There are no mass start events in this Omnium.  All racers will race in individual events.
There will be a HandiCap competition for a pair of Carbon wheels.   The competition for the wheels will begin at 5:30pm.
The finals for the Wheels will be the first event of our regular race event that will begin at 7pm.  There will be racing for all categories.
For more information on all programs at the FCV can be found at our website: www.ForestCityVelodorme.ca