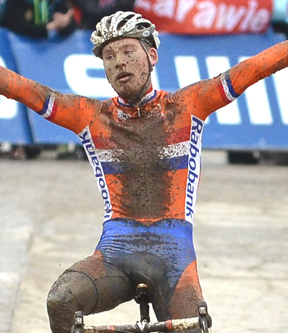 February 02, 2013 (Louisville,Kentucky) – Mike Teunissen (Netherlands) broke free on the final lap to win the U23 Men's CX title at the 2013 UCI CX World Championships. Teunissen and Wietse Bosmans (Belgium) got away on their own during the first lap of the race and exchanged the lead several times as the battled each other for the duration of the race.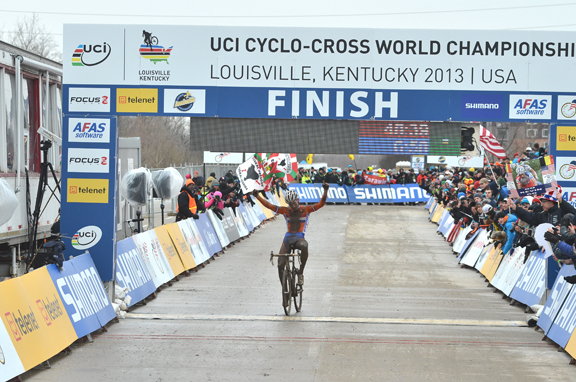 Bosmans had actually opened a 6-second gap on Teunissen mid-race but Teunissen pulled himself back to the front and after several attacks from both riders, Teunissen wore out his adversary and went on to victory. The race began at noon as weather conditions continue to warm up – what was once a snow covered course gave way to looking more like a wet mudslide.
Bosmans claimed the silver, riding in alone after being dropped by Teunissen with Wout Van Aert (Belgium) taking home the bronze as he placed third.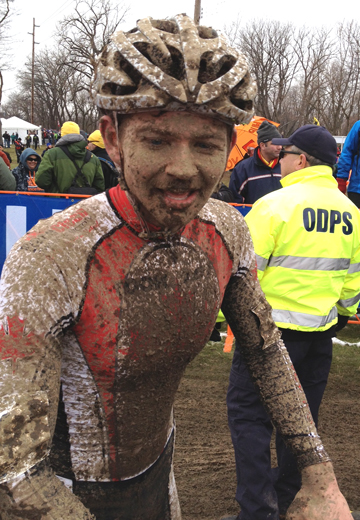 Michael Van Den Ham was the top Canadian in 31st with Andrew L'Esperance in 35th, and Conor O'Brien in 38th – Evan McNeely did not finish.
Results
1. Mike Teunissen (Netherlands)  0:48:40
2. Wietse Bosmans (Belgium)  0:14
3. Wout Van Aert (Belgium)  0:22
4. Tijmen Eising (Netherlands)  0:35
5. Jens Adams (Belgium)  0:38
6. Laurens Sweeck (Belgium)  0:54
7. Michiel Van Der Heijden (Netherlands)  1:05
8. Michael Vanthourenhout (Belgium)  1:15
9. Corne Van Kessel (Netherlands)  1:29
10. Gianni Vermeersch (Belgium)  1:34
11. Zach Mcdonald (United States Of America)  1:42
12. Kenneth Hansen (Denmark)  1:50
13. Michael (Jr) Schweizer (Germany)  1:54
14. David Menut (France)  1:57
15. Jonathan Lastra Martinez (Spain)  1:58
16. Yannick Eckmann (Germany)
17. Vojtech Nipl (Czech Republic)  2:16
18. Jakub Skala (Czech Republic)  2:37
19. Lars Forster (Switzerland)  2:48
20. David Van Der Poel (Netherlands)  3:00
21. Clément Venturini (France)  3:04
22. Julian Alaphilippe (France)  3:20
23. Lukas Müller (Switzerland)  3:29
24. Michael Boros (Czech Republic)  3:33
25. Andrew Dillman (United States Of America)  3:40
26. Fabian Lienhard (Switzerland)  3:56
27. Severin Sagesser (Switzerland)  4:03
28. Tomas Paprstka (Czech Republic)  4:07
29. Josh Johnson (United States Of America)  4:19
30. Steven James (Great Britain)  5:06
31. Michael Van Den Ham (Canada)  5:17
32. Hugo Robinson (Great Britain)  5:19
33. Adam Martin (Great Britain)  5:47
34. Michimasa Nakai (Japan)  6:02
35. Andrew L'Esperance (Canada)  6:16
36.  Kohei Maeda (Japan) -1 lap
37.  Skyler Trujillo (United States Of America) -1 lap
38.  Conor O'Brien (Canada) -2 laps
39.  Tobin Ortenblad (United States Of America) -3 laps
DNF  Evan McNeely (Canada)
DNF  Emiel Dolfsma (Netherlands)
DNF  Daniele Braidot (Italy)