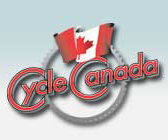 January 22, 2013 (Alliston, ON) – Cycle Canada is pleased to announce dates for the 2013 CycleCanada Century Ride, a double century weekend with overnight accommodation, a catered BBQ and a buffet breakfast. And, naturally, there will be the usual great cycling and camaraderie.
A Summary of the Cycle Canada's Century Ride in 2013:
Dates: Saturday, May 25, 2013 and Sunday, May 26, 2013
Routes: Choice of great cycling routes — metric or imperial centuries. Start in Toronto and ride out-and-back metric or imperial centuries to Barrie.
Pick a Route – 100 km or 100 miles km (1 km = .62 miles) each day.
Lodging: Pre-booked accommodation. Two bedroom suites, each participant has a private bedroom
Meals: Saturday – barbecue buffet dinner: 6:30-7:45 p.m.
Sunday – full hot breakfast buffet: 7:00-8:45 a.m.
New in 2013:
Fond of Fondos? Feedback from riders tells us some people want a timed start at York.
And we know from experience that many riders track their riding time each day. Put those two
together and it is the Gran Fondo concept. We still will have a casual start procedure but this year we
also will offer timed starts and a check-in procedure to record finish times.
Registration Details:
Early registration prior to March 5, 2013 — $117.50 (plus HST).
Registration after March 5, 2013 — $127.50 (plus HST).
Day rider fee: $15.00 (plus HST).
For event details visit HERE.
Register on-line visit HERE.