January 20, 2013 (Hoogerheide, Belgium) – The UCI Cyclo-cross World Cup final in Hoogerheide, the Netherlands, offered a great spectacle on Sunday due to the cold weather conditions. Snow and ice turned the twisting, hilly and often muddy course into a slippery challenge for the riders.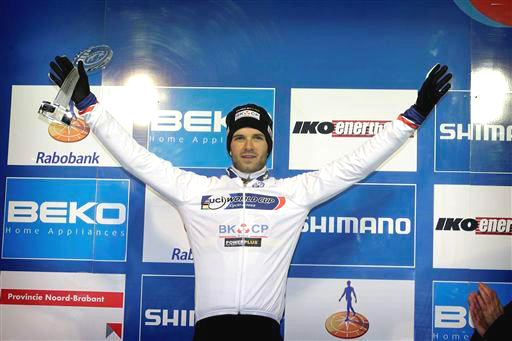 Elite Men: Albert salvages World Cup despite Pauwels' attack
Martin Bina's victory was well-deserved, albeit surprising. The 29-year-old Czech clearly felt comfortable on the snow-covered course, while others were lacked that comfort, unable to develop their power on the slippery course.
Kevin Pauwels (Sunweb-Napoleon Games) made few mistakes and was confident early on, launching several attacks on Niels Albert. However, the Belgian riders were taken by surprise in the sixth of nine laps when Bina launched his attack. The Czech rider collected a lead of about ten seconds on the first chasers, where home rider Lars van der Haar (Rabobank Development Team) was doing most of the work. In the closing laps Pauwels left Albert behind and was leading the chase on Bina during the penultimate lap. He came close to taking over the World Cup win as he was riding in second place while Albert was seventh. However, his dreams were shattered in a steep descent when he lost his chain and saw lots of riders, including Albert, pass by. Bina overcame a late scare after a bobble to complete his solo towards his first-ever World Cup victory. The late surge from Van der Haar resulted in a close second place ahead of Simon Zahner (Switzerland), Nys and Albert. Pauwels crossed the line in eighth place.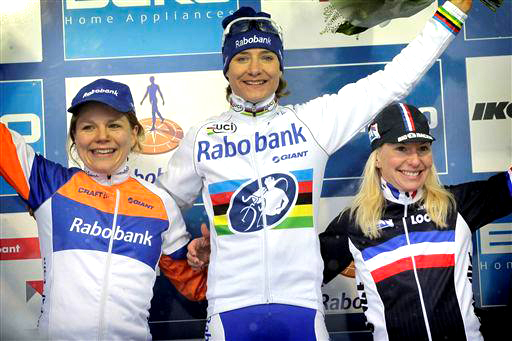 Elite women: Vos makes it three in a row
Marianne Vos won the final round in the women's category. The World Champion went up the snowy roads with her compatriot Sanne van Paassen (Rabo Women Cycling Team). The duo quickly collected half a minute on a chasing group of Christel Ferrier-Bruneau (Faren- Let's go Finland Team), Eva Lechner (Italy) and Jasmin Achermann (Switzerland). At the half-way mark, Van Paassen took the initiative in the lead group but on a right hand corner her front wheel slipped away and she went down in the snow. Vos made the most of this mistake to create a small gap which Van Paassen never managed to bridge. French rider Ferrier-Bruneau took third place on the snowy course.
World Cup leader Katherine Compton skipped the final round in Hoogerheide as she was already certain of the overall victory. The British Champion Nikki Harris (Great-Britain) dropped from second to third place in Hoogerheide due to a distant tenth place on the slippery course. Her disappointing performance allowed Van Paassen to claim second place in the World Cup.
Men U23 and Juniors: Bosmans and Van der Poel unbeatable
With a fourth win in six rounds Wietse Bosmans added the icing to his World Cup cake. Bosmans left his last rivals behind at the half-way mark of the U23 race. Gianni Vermeersch (Belgium) held off Juan Alaphilippe (France) for second place in Hoogerheide. Bosmans is the logical winner of the World Cup with compatriot Wout Van Aert (Belgium) finishing second. Corne van Kessel (the Netherlands) and Vermeersch share third place, with Van Kessel coming out on top due to a greater number of second places.
In the first race of the day Mathieu Van der Poel completed his unbeaten winning streak in the UCI Cyclo-cross World Cup. Van der Poel completed a six-lap solo ride, arriving half a minute ahead of his compatriot Martijn Budding and Italian rider Gioele Bertolini. The overall World Cup is won by Van der Poel, well ahead of Budding and Logan Owen (USA).
Results
Elite Women
1. Marianne Vos (Ned) Rabobank Women Team 38:54
2. Sanne van Paassen (Ned) Rabobank Women Team 00:53
3. Christel Ferrier-Bruneau (Fra) Faren – Let's Go Finland Team 01:12
4. Eva Lechner (Ita) Colnago Sudtirol 01:24
5. Jasmin Achermann (Sui) Rapha-Focus 01:29
6. Sanne Cant (Bel) Veldritacademie Enertherm – BKCP 01:48
7. Helen Wyman (Gbr) Kona Factory Team 01:51
8. Vania Rossi (Ita) 01:56
9. Ellen Van Loy (Bel) Melbotech Prorace CT 02:18
10. Nikki Harris (Gbr) Young Telenet-Fidea Cycling Team 02:28
11. Pavla Havlikova (Cze) Young Telenet-Fidea Cycling Team 02:42
12. Annie Last (Gbr) 02:52
13. Reza Hormes-Ravenstijn (Ned) Orange Babies Cycling Team 03:13
14. Sabrina Stultiens (Ned) Rabobank Women Team 03:19
15. Arenda Grimberg (Ned) WV Het Stadion 03:34
16. Alice Arzuffi (Ita) Faren – Let's Go Finland Team 03:45
17. Gabriella Day (Gbr) Rapha-Focus 03:50
18. Arley Kemmerer (USA) C3-Athletes Serving Athletes 03:51
19. Annefleur Kalvenhaar (Ned) Giant Dealerteams 03:53
20. Amy Dombroski (USA) Young Telenet-Fidea Cycling Team 04:03
21. Francesca Cauz (Ita) Top Girls Fassa Bortolo 04:23
22. Evy Kuijpers (Ned) 05:13
23. Jessica Lambracht 05:15
24. Lotte Eikelenboom (Ned) 05:32
25. Lucie Chainel-Lefevre (Fra) BH – SR Suntour – Peisey Vallandry 05:45
26. Githa Michiels (Bel) Trek-KMC Trade Team 05:50
27. Asa Maria Erlandsson (Swe) 05:52
28. Karen Verhestraeten (Bel) Sengers Ladies Cycling Team 06:08
29. Suzie Godart (Lux) Team Pratomagno Women 06:16
30. Katrien Thijs (Bel) K. Edegem Bicycle Club 06:19
31. Ayako Toyooka (Jpn) 06:20
32. Christine Vardaros (USA) Baboco 06:29
33. Hilde Quintens (Bel) Melbotech Prorace CT 06:30
34. Esmee Oosterman (Ned) 07:35
35. Caroline Mani (Fra) Raleigh-Clement (-1 lap)
36. Margriet Kloppenburg (Den) BMC Concept Store (-2 laps)
37. Kristien Nelen (Bel) Houffalize Granville Team
38. Joyce Vanderbeken (Bel) Wielerteam Decock Sportivo Moorsele (-3 laps)
Elite Men
1. Martin Bina (Cze) CEZ Cyklo Team Tabor 1:02:17
2. Lars Van Der Haar (Ned) Rabo – Giant Offroad Team. 00:07
3. Simon Zahner (Sui) 00:11
4. Sven Nys (Bel) Crelan-Euphony Cycling Team 00:22
5. Niels Albert (Bel) BKCP – Powerplus Cycling Team 00:27
6. Radomir Simunek (Cze) Kwadro-Stannah Cycling Team
7. Francis Mourey (Fra) Francaise des Jeux 00:33
8. Kevin Pauwels (Bel) Sunweb – Napoleon Games Cycling Team 00:42
9. Julien Taramarcaz (Sui) BMC Mountainbike Racing Team 00:46
10. Lukas Flückiger (Sui) 00:49
11. Marcel Meisen (Ger) BKCP – Powerplus Cycling Team 00:59
12. Jim Aernouts (Bel) Sunweb – Napoleon Games Cycling Team 01:10
13. Marcel Wildhaber (Sui) 01:15
14. Mariusz Gil (Pol) Kwadro-Stannah Cycling Team 01:17
15. Bart Aernouts (Bel) AA Drink/ Leontien.nl Pro 01:40
16. Thijs Van Amerongen (Ned) AA Drink/ Leontien.nl Pro 01:56
17. Marco Aurelio Fontana (Ita) 02:07
18. Thijs Al (Ned) Telenet Fidea Cycling Team 02:11
19. Martin Zlamalik (Cze) Landbouwkrediet-KDL 02:12
20. Enrico Franzoi (Ita) Selle Italia Guerciotti 02:13
21. Twan Van Den Brand (Ned) Orange Babies Cycling Team 02:14
22. Jan Denuwelaere (Bel) Style & Concept Cycling Team 02:19
23. Niels Wubben (Ned) Rabo – Giant Offroad Team. 02:22
24. Gerben De Knegt (Ned) Orange Babies Cycling Team 02:29
25. Philipp Walsleben (Ger) BKCP – Powerplus Cycling Team 03:08
26. Ondrej Bambula (Cze) CEZ Cyklo Team Tabor 03:14
27. Bart Wellens (Bel) Telenet Fidea Cycling Team 03:28
28. Lubomir Petrus (Cze) BKCP – Powerplus Cycling Team 03:34
29. Patrick Van Leeuwen (Ned) Orange Babies Cycling Team 03:41
30. Guillaume Perrot (Fra) 03:56
31. Andreas Moser (Sui) 04:38
32. Ole Quast (Ger) 04:46
33. Rob Peeters (Bel) Telenet Fidea Cycling Team 05:00
34. Ian Field (Gbr) Hargroves Cycles 05:01
35. Javier Ruiz De Larrinaga Ibanez (Esp) 05:03
36. Magnus Darvell (Swe) 05:16
37. Jaime Juncal Martinez (Esp) 05:38
38. Arnaud Jouffroy (Fra) Telenet Fidea Cycling Team 05:48
39. Mauro Gonzalez Fontan (Esp) (-2 laps)
40. Milan Barenyi (Svk)
41. Martin Haring (Svk)
42. Romain Lejeune (Fra)
43. Micki Van Empel (Ned) Landbouwkrediet-KDL (-3 laps)
44. Robert Glajza (Svk) (-4 laps)
45. Alexander Revell (Nzl)
46. Lewis Rattray (Aus) (-5 laps)
47. Alberto Candelas Caballero (Esp) (-6 laps)
World Cup Final Standings
Elite Women
1. Katie Compton (USA) Trek Cyclocross Collective 390  pts
2. Sanne van Paassen (Ned) Rabobank Women Team 300
3. Nikki Harris (Gbr) Young Telenet-Fidea Cycling Team 276
4. Helen Wyman (Gbr) Kona Factory Team 274
5. Sanne Cant (Bel) Veldritacademie Enertherm – BKCP 247
6. Marianne Vos (Ned) Rabobank Women Team 225
7. Jasmin Achermann (Sui) Rapha-Focus 223
8. Christel Ferrier-Bruneau (Fra) Hitec Products – Mistral Home Cycling Team 202
9. Lucie Chainel-Lefevre (Fra) BH – SR Suntour – Peisey Vallandry 196
10. Pavla Havlikova (Cze) Young Telenet-Fidea Cycling Team 165
11. Ellen Van Loy (Bel) Melbotech Prorace CT 159
12. Gabriella Day (Gbr) Rapha-Focus 149
13. Katerina Nash (Cze) Luna Pro Team 135
14. Eva Lechner (Ita) Colnago Sudtirol 127
15. Sabrina Stultiens (Ned) Rabobank Women Team 112
16. Amy Dombroski (USA) Young Telenet-Fidea Cycling Team 105
17. Annefleur Kalvenhaar (Ned) Giant Dealerteams 91
18. Julie Krasniak (Fra) Rapha-Focus 90
19. Arenda Grimberg (Ned) WV Het Stadion 88
20. Marlène Morel Petitgirard (Fra) VCCMM 61
21. Sabrina Schweizer (Ger) Rapha-Focus 61
22. Vania Rossi (Ita) 60
23. Reza Hormes-Ravenstijn (Ned) Orange Babies Cycling Team 58
24. Kaitlin Antonneau (USA) Cannondale p/b Cyclocrossworld 57
25. Pauline Ferrand-Prevot (Fra) Rabobank Women Team 55
26. Alice Arzuffi (Ita) Selle Italia-Guerciotti-Elite 54
27. Martina Mikulaskova (Cze) 53
28. Joyce Vanderbeken (Bel) Wielerteam Decock Sportivo Moorsele 52
29. Hanka Kupfernagel (Ger) RusVelo 35
30. Sophie de Boer (Ned) Young Telenet-Fidea Cycling Team 33
31. Annie Last (Gbr) 29
32. Francesca Cauz (Ita) Fassa Bortolo – Servetto 28
33. Maureen Bruno Roy (USA) Bob's Red Mill p/b Seven Cycles 28
34. Githa Michiels (Bel) Trek-KMC Trade Team 24
35. Asa Maria Erlandsson (Swe) 23
36. Meredith Miller (USA) Cal Giant Berry Farms/Specialized 22
37. Caroline Mani (Fra) Raleigh-Clement 22
38. Elena Valentini (Ita) Selle Italia-Guerciotti-Elite 21
39. Nicole Duke (USA) Raleigh-Clement 19
40. Kim Van de Steene (Bel) Kon. VC T Meetjesland-Knesselare 19
41. Crystal Anthony (USA) Cyclocrossworld.com 17
42. Nancy Bober (Bel) Style & Concept 17
43. Valentina Scandolara (Ita) S.C. Michela Fanini Rox 14
44. Tereza Medvedova (Svk) 14
45. Margriet Kloppenburg (Den) BMC Concept Store 14
46. Arley Kemmerer (USA) C3-Athletes Serving Athletes 13
47. Evy Kuijpers (Ned) 13
48. Lise-Marie Henzelin (Sui) Team Pro Region Renfersa 13
49. Francesca Cucciniello (Ita) Selle Italia-Guerciotti-Elite 10
50. Ayako Toyooka (Jpn) 9
51. Jessica Lambracht (Ger) 8
52. Lotte Eikelenboom (Ned) 8
53. Elisabeth Brandau (Ger) Notebooksbilliger.de Team 7
54. Hilde Quintens (Bel) Melbotech Prorace CT 6
55. Suzie Godart (Lux) CCI Differdange 6
56. Angelica Edvardsson (Swe) 4
57. Karla Stepanova (Cze) 4
58. Christine Vardaros (USA) Baboco 4
59. Karen Verhestraeten (Bel) 3
60. Alessia Bulleri (Ita) 3
61. Nadja Heigl (Aut) 2
62. Katrien Thijs (Bel) K. Edegem Bicycle Club 1
63. Andrea Smith (USA) LadiesFirst Racing 1
64. Kristien Nelen (Bel) Houffalize Granville Team 1
Elite Men
1. Niels Albert (Bel) Bkcp – Powerplus 540  pts
2. Kevin Pauwels (Bel) Sunweb – Napoleon Games Cycling Team 515
3. Sven Nys (Bel) Crelan – Euphony 506
4. Lars Van Der Haar (Ned) Rabobank Development Team 411
5. Bart Aernouts (Bel) 372
6. Radomir Simunek (Cze) 361
7. Klaas Vantornout (Bel) Sunweb – Napoleon Games Cycling Team 356
8. Francis Mourey (Fra) FDJ 348
9. Thijs Van Amerongen (Ned) 318
10. Simon Zahner (Sui) 298
11. Tom Meeusen (Bel) Telenet – Fidea 276
12. Bart Wellens (Bel) Telenet – Fidea 274
13. Enrico Franzoi (Ita) 266
14. Niels Wubben (Ned) Rabobank Development Team 264
15. Julien Taramarcaz (Sui) 263
16. Marcel Meisen (Ger) Bkcp – Powerplus 252
17. Martin Bina (Cze) 245
18. Twan Van Den Brand (Ned) 244
19. Philipp Walsleben (Ger) Bkcp – Powerplus 239
20. Rob Peeters (Bel) Telenet – Fidea 236
21. Dieter Vanthourenhout (Bel) Bkcp – Powerplus 232
22. Marcel Wildhaber (Sui) 227
23. Gerben De Knegt (Ned) 214
24. Thijs Al (Ned) 211
25. Mariusz Gil (Pol) 192
26. Matthieu Boulo (Fra) 174
27. Lubomir Petrus (Cze) Bkcp – Powerplus 165
28. Patrick Van Leeuwen (Ned) 160
29. Jonathan Page (USA) 145
30. Egoitz Murgoitio Rekalde (Esp) 122
31. Martin Zlamalik (Cze) 122
32. Jeremy Powers (USA) 113
33. Ondrej Bambula (Cze) 110
34. Micki Van Empel (Ned) 109
35. Marco Aurelio Fontana (Ita) 99
36. Christoph Pfingsten (Ger) Cyclingteam De Rijke – Shanks 94
37. Steve Chainel (Fra) Ag2R La Mondiale 93
38. Jiri Polnicky (Cze) 83
39. Arnaud Grand (Sui) 77
40. Aurelien Duval (Fra) 75
41. Ian Field (Gbr) 74
42. Jim Aernouts (Bel) Sunweb – Napoleon Games Cycling Team 73
43. Lukas Flückiger (Sui) 71
44. Martin Haring (Svk) 68
45. Guillaume Perrot (Fra) 67
46. Zdenek Stybar (Cze) Omega Pharma – Quick-Step Cycling Team 65
47. Nicolas Bazin (Fra) 65
48. Mirko Tabacchi (Ita) 63
49. Javier Ruiz De Larrinaga Ibanez (Esp) 58
50. Timothy Johnson (USA) 57
51. Elia Silvestri (Ita) 54
52. Jan Denuwelaere (Bel) 52
53. Vladimir Kyzivat (Cze) 46
54. Petr Dlask (Cze) 43
55. Marco Ponta (Ita) 43
56. Christian Helmig (Lux) 42
57. Arnaud Jouffroy (Fra) Telenet – Fidea 39
58. Magnus Darvell (Swe) 38
59. Isaac Suarez Fernandez (Esp) 35
60. Andreas Moser (Sui) 31
61. Ole Quast (Ger) 31
62. Sven Vanthourenhout (Bel) Crelan – Euphony 30
63. Arnold Jeannesson (Fra) FDJ 26
64. David Kasek (Cze) 26
65. Milan Barenyi (Svk) 23
66. Robert Glajza (Svk) 22
67. Mitchell Huenders (Ned) 21
68. Lewis Rattray (Aus) 20
69. Justin Lindine (USA) 18
70. Robert Gavenda (Svk) 18
71. Romain Lejeune (Fra) 18
72. Stefano Capponi (Ita) 17
73. Alexander Revell (Nzl) 17
74. Lukas Winterberg (Sui) 16
75. Kenneth Hansen (Den) 15
76. Jaime Juncal Martinez (Esp) 14
77. Sascha Weber (Ger) 14
78. Aaron Schooler (Can) 13
79. Adrien Pascal (Fra) 13
80. Jose Antonio Diez Arriola (Esp) 13
81. Mauro Gonzalez Fontan (Esp) 12
82. Fabio Ursi (Ita) 12
83. Thomas Paccagnella (Ita) 11
84. Jeremy Durrin (USA) 11
85. Vaclav Metlicka (Svk) 11
86. Cristian Cominelli (Ita) 10
87. Martin Loo (Est) 9
88. Michael Boros (Cze) 9
89. Jonathan Lastra Martinez (Esp) 8
90. Gusty Bausch (Lux) 8
91. Yannick Mayer (Ger) 7
92. David Quist (Nor) 7
93. Mark Mcconnell (Can) 6
94. Ludwig Söderquist (Swe) 5
95. Alberto Candelas Caballero (Esp) 4
96. Zach Mcdonald (USA) 4
97. Michel Vuelta Izquierdo (Esp) 4
98. Angus Edmond (Nzl) 4
99. Emil Arvid Olsen (Den) 3
100. Marco Bianco (Ita) 3
101. Ondrej Glajza (Svk) 1