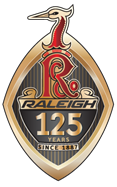 January 14, 2013 (Waterloo, Québec)- Raleigh Canada Limited announced today that the seasonal bicycle manufacturing and assembly activity of its Waterloo, Québec facility will cease by the end of 2013. Beyond that date, the Waterloo facility will remain open, and continue to support Raleigh Canada's presence in the Canadian market as a warehousing, distributing and service fulfillment center with year round activities.
"In the context of our global competitive market where offshore suppliers offer fierce competition, Raleigh has taken the difficult decision to cease bicycle manufacturing and assembly in Canada, as this activity is no longer economically viable," commented Chris Enoksen, President of Raleigh Canada. "This is a market reality which was reflected by a steady decline in Raleigh's bicycles produced at the Waterloo facility over the last 5 years."
Raleigh Canada's Waterloo facility has manufactured and assembled bicycles on a seasonal basis for over 30 years. Manufacturing and production employees at the Waterloo facility will continue to be actively employed until they are laid off at the end of the normal seasonal production cycle in June 2013. As a result of Raleigh Canada's decision to cease its bicycle manufacturing and assembly activity, approximately 100 production employees will not be recalled from their normal seasonal layoff in January 2014.
"Raleigh is proud to have maintained bicycle manufacturing and assembly operations in Canada longer than other major competitors, who left this field years ago," added Enoksen. "We regret that our manufacturing activity can no longer be sustained and, above all, we are deeply grateful to all our dedicated employees in Waterloo who have contributed to Raleigh's outstanding reputation for producing high quality affordable bicycles since 1973."
As a leading supplier in the Canadian market place for 75 years, Raleigh Canada is fully committed to continue to offer a large selection of best quality bicycles at a great value to Canadians. Raleigh's Waterloo facility will manufacture and assemble bicycles to fulfill all our Canadian orders in 2013. For 2014 and beyond, Raleigh will be working with selected offshore suppliers to serve its Canadian distribution networ