January 11, 2013 (Ancaster, ON) – Today, organizers of the 20th annual Paris to Ancaster Bike Race (P2A) announced that the cyclocross season can continue into April with P2A as there is growing popularity among cyclocross riders. The 20th annual P2A will take place on April 14th, 2013.
Inspired by France's Paris-Roubaix Cycling Race, P2A presents a similar style to cyclocross racing as it is known for the difficult route over some of the roughest farm lanes, trails and gravel roads in southern Ontario. Combined with unpredictable spring weather, P2A presents a unique challenge each year. P2A features two races – a 70 km race from Paris to Ancaster and a 40 km race from St. George to Ancaster.
P2A attracts well-known cyclocross riders. Last year's P2A top male cyclists Mike Garriagn and Aaron Schooler, are representing Canada at the World Cyclocross Championships in Louisville this February. Other notable cyclocross riders who have raced and won P2A include American professional cyclist Jeremy Powers, and British professional cyclist Helen Wyman. With positive feedback on P2A from both professionals, Powers says after winning in 2009, "That was a great day on the bike, a unique race for sure!" and Wyman says after winning in 2010, "I got away on the 'Mudslide of Death' for a terrific victory. Great fun!"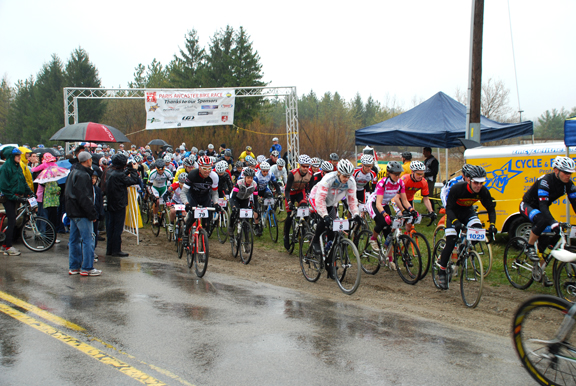 P2A organizers are encouraging riders to register now as the early bird rates are considerably lower and only available until January 15th. There is also the option to register for the new Olympic experience VIP package which offers preferred seeding that would normally only be available to the professional cyclists or Olympians. The VIP package also includes meeting with current and former Canadian mountain bike, road and track Olympians before and after the race, as well as starting alongside some of the stars of Canadian cycling from the past 40 years. Early registration for the Olympic VIP package will secure a spot where limited spaces are available.
"We are proud that P2A offers a race that is suitable for cyclists of all styles and calibre, making it a great opportunity for cyclocross riders to stay on their bikes past the typical cyclocross season," says Tim Farrar, P2A co-chair. "It has similar elements to a cyclocross race and some of the Olympians taking part in P2A this year, as well as many past Olympians and professionals that have raced have been cyclocross riders."
To register today at a discounted rate, visit HERE.