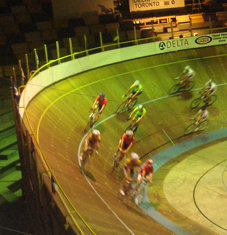 January 10, 2013 (London, ON) – After a break over the holiday season. The Forest City Velodrome will be the place to be on Saturday night as a evening of exciting bike racing will hit the boards of the 138m Velodrome in London Ontario.
"There will be racing for every taste," said Bob Schelstreate, the FCV track announcer.  "From the Future Stars to some of the most exciting Madison racing will hit the boards at 7pm on Saturday night."
"We are expecting a big turn out of riders as the push for the spring road season kicks into high gear," said Schelstreate.
The FCV continues to bulge at the seams, as the introductory clinics (Track 1) have been sold out for months.  The Track 1 sessions continue to be sold out into late February.  "We have expanded our riding hours to accommodate the extra demand for track time," explained Scott Matthews, one of the Velodromes many instructors. "We are not sure if the increase in riders is due to the Olympics, or Milton affect, whatever is causing more riders to come and experience the FCV we hope it continues straight into 2014″.
Racing begins at 7pm on Saturday night, general admission is $10.00, Seniors $5.00, Kids are always FREE.  For more information click HERE or checkout our face book page HERE.
You can always contact the Velodrome by email ForestCityVelodrome@Live.com
See you on the boards.