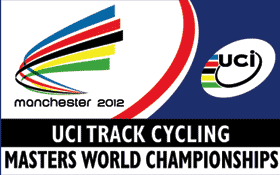 October 19, 2012 (Manchester, England) – The 2012 Masters Track World Championships wound up in Manchester, England last Sunday, with Canadians taking home seven medals. Five Canadians made the trip to England to contest the world's fastest Masters. Peter Toth and Stephane LeBeau scored gold and silver, respectively, in the Men's 50-54 Individual Pursuit.
Toth ruled the Men's 50-54 Points Race, taking home another gold, while teammate LeBeau secured the bronze. The Men's 50-54 Scratch Race saw the winning duo grab even more hardware, when Toth settled for nothing less than the victory and LeBeau cruised into the silver medal position.
The Canadian squad joined forces on the final day of racing for the 3,000m Men's Team Pursuit. Together, Toth, LeBeau, Julian Base, and Michael Nash rode to silver in the final, with the gold going to Australia.
Other notable Canadian results
Nash finished a strong fourth in the Men's 40-44 Individual Pursuit, Base took fifth place in the Men's 40-44 Scratch Race, and Donald Gilmour rode to ninth in the Men's 45-49 750m Time Trial.
Results HERE.