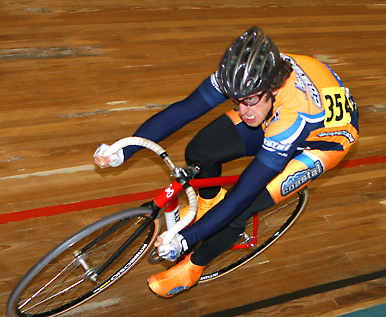 October 18, 2012 (Burnaby, BC) – Local Port Coquitlam company, Superior Glass, will be sponsoring the Superior Glass Track Classic on the remembrance day long weekend. The event will start with the normal Burnaby Velodrome Club's Friday night racing and continue Saturday afternoon and evening and Sunday. There will be races for all levels of competitor with Novice, Youth, Women, C,B, and A groups all seeing action on the program. Friday and Saturday evenings and Sunday morning will feature a variety endurance events with a Sprint tournament slated for Saturday afternoon and the always popular Keirin event on early Sunday afternoon. Competitors will be racing for a minimum prize purse of $1000 cash courtesy of Superior Glass.
The entire Friday through Sunday events for youth and women will comprise their overall omnium with Saturday and Sunday counting for the A through C omnium in endurance and a separate overall for the two sprint events ( sprint and Keirin ). In addition to the Superior Glass Track Classic the BVC will also host a U-13 training camp. This will be held from 4 to 5:30 PM on Friday November 9 and 9 to 10:30 AM on Saturday November 10 and is free. Please email Jeremy Storie at jeremy(at)<http://burnabyvelodrome.ca>burnabyvelodrome.ca to secure a spot.
Cycling BC will also be running the highly popular fall/winter camps at the Burnaby Velodrome. The first camp will be held over three days from November 9-11, 2012, and will be run by Cycling BC and Burnaby Velodrome coaches.
Included in the camp will be multiple track training sessions in addition to the weekend Superior Glass Track Classic. The main focus of the camp will be learning essential track skills with an emphasis on team pursuit and team sprint. This camp is the first in a nation-wide program to serve as talent identification for the national track program, with an eye towards identifying possible 2016 and 2020 athletes.
Any riders interested in taking part are asked to send an application via email to Cycling BC development coach Jeff Ain at jeff(at)cyclingbc.net. Space is limited, and these camps have sold out for the past three seasons. Cost will be approximately $70, including camp, race entry, bike rental (if required) and is open to riders 13-18.
It will be an action packed weekend at the Burnaby Velodrome with the Cycling BC youth camp and national talent ID, as well as the BVC free U-13 camp, and the feature event: the Superior Glass Track Classic. For more information, race hotel discount rate, race schedule and race entry please sign up as a track user HERE and then sign up using our secure on-line registration. Fees for races from Friday to Sunday are U-19 $20 (but included in your Cycling BC youth camp if participating), $30 for women and U-23, $50 for all others including sprints and Keirin, $20 for sprint and Keirin only.
Weekend Schedule*
Friday Nov 9
- 11 AM to 1:30 PM Cycling BC Elite Development camp
- 1:30 to 4 PM Cycling BC Youth Development camp
- 4 to 5:30 PM BVC U-13 camp
- 5:30 to 6:30 Break/warm up
- 6:30 to 10 PM racing for youth, novice, women, C, B, A
Saturday Nov 10
- 9 to 10:30 BVC U-13 camp
- 10:30 AM to 1 PM Cycling BC Youth Development camp
- 1 to 2 PM Break/warm up
- 2 to 5 PM Open Sprint racing and Cycling BC Youth Development racing
- 5 to 6:30 PM Break/warm up
- 6:30 to 10:30 racing for women, C, B, A
Sunday Nov 11
- 9 AM to 3 PM racing for youth, women, C, B, A
*subject to change