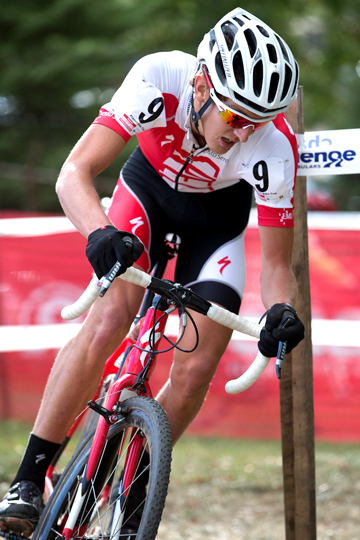 September 28, 2012 – Elite Ontario bike racer Evan McNeely (EMD Serono Specialized) switched gears to cyclo-cross recently after a strong mountain biking season, during which he clinched the Canadian U23 MTB  title. He partly credits his fat tire skills for giving him an edge on skinny knobbies this fall. Riding a Specialized Crux, McNeely is now leading the U23 category of the USGP of Cyclocross series after winning the first of two days, September 22-23, in Wisconsin. Pedal's Chris Redden caught up with McNeely to get the scoop on his season and his take on 'cross equipment.
Congrats on your success at the USGP Cross races! Now that you have the lead in the U23 series after two events, are you planning on going for the overall series title?
Evan McNeely: The goal going into this season was to win the USGP U23 overall series, and that still stands after a good start at the first two events.
How difficult is it doing two races per weekend for the USGP? What do you do to recover in between?
EM: The second race of the weekend is something I have always struggled with in past years. I could never bring together a good race on Sunday when in America and even considered myself cursed. I broke that curse this weekend with similar results both days. I try to eat a good meal with lots of protein and carbs immediately after racing, then go on a date with my foam roller. When the races are really late in the day I go for a spin in the morning and take a short nap before leaving to race.
What does the rest of your 'cross season look like? Will you be looking to do any Euro CX races this year?
EM: I'm trying to do all the USGP's this year as well as the NEPCX series. I want to go to Europe but I don't think I'll be able to financially after both full MTB and cross seasons.
You're a strong mountain biker… what does that bring to your cross racing?
EM: Everybody looks at this differently but I think mountain biking is the best precursor to cyclocross. The fitness demands are similar and the base/endurance of mountain biking is all I need for cross. Plus I have little trouble with the technical demands of a cross race after a mountain bike season.
Do you have any particular CX equipment preferences? Are you a tubular or clincher rider?
EM: To race cyclocross you need tubulars, it's become a standard piece of equipment on the circuit. This year I'm testing out the Specialized Tracer and Terra tubulars on my Crux with impressive results.
Will we see you on disc brakes any time soon?
EM: Lots of debate over this one! I would wait until hydraulic discs become available for cyclocross bikes before trying them. I'm not sure we really need that extra stopping power unless the conditions are really awful. Forks and seat stays will need to be to built stiffer and less compliant to handle the increased forces from the disc, resulting in a less comfortable ride. There are more reasons for and against discs than I can get into now, only time will tell.