September 15, 2012 (Abbotsford, BC) – Friday's BMX Supercross race saw some of the best riders in the world compete for the title of the fastest man and woman on one of the fastest tracks in the world.  The fastest time of the day of 30.373 seconds was posted by Willoughby, followed tightly by Tory Nyhaug of Coquitlam. National coach Adam Muys said that today's race was "Super great!  [it] shows that [Tory's] back in form and prepared to win it tomorrow.  Connor McCormack finished eighth in the Superfinal, his best performance this year and is very confident in racing tomorrow."
"The four-year dream to have a BMX Supercross start hill and track that meets the UCI requirements to host a Supercross World Cup event in BC came true today. The legacy of hosting this BMX Supercross World Cup in Abbotsford will provide Canadian athletes the opportunity to compete on home soil against the best riders around the world.  A track that is among the top Supercross tracks in the world," said Cycling BC Chief Executive Officer Keith Ryan.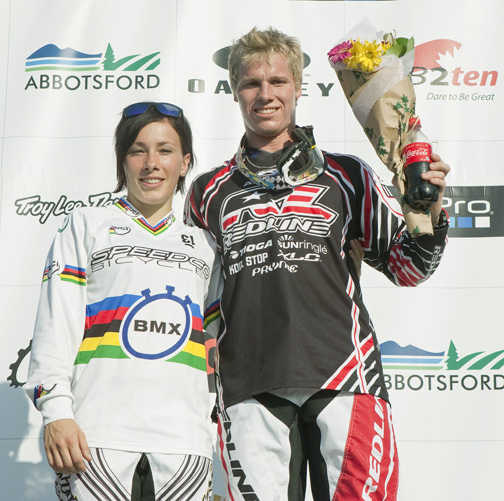 To top off the day, riders who made it to the Superfinal had the pleasure of sitting in the hot seat: a Zamboni, which was generously donated by the Abbotsford Heat for today's event. Together with the Zamboni, RCMP Staff Sergeant Bill Laidlaw was on hand to escort riders into the hot seat and onto the podium by while the mayor of Abbotsford Bruce Banman presented the awards to the fastest man Sam Willoughby and fastest woman, Caroline Buchanan of Australia.
Saturday's events start off with an autograph session with some of the top riders and will be followed by the men's 1/8 Finals at 13:10.
Results
Men
1. WILLOUGHBY, Sam (AUS) 30.373
2. NYHAUG, Tory (CAN) 30.396
3. VAN GENDT, Twan (NED) 30.502
4. FIELDS, Connor (USA) 30.606
…
8. MCCORMACK, Connor (CAN) 31.388
Women
1. BUCHANAN, Caroline (AUS) 33.667
2. STANCIL, Felicia (USA) 34.073
3. SMULDERS, Laura (NED) 34.610
4. VAN BENTHEM, Merle (NED) 34.948
5. REYNOLDS, Lauren (AUS) 35.061
6. CRAIN, Brooke (USA) 35.523
7. TAYLOR, Abbie (GBR) 35.597
8. DELLAR, Kirsten (AUS) 36.224