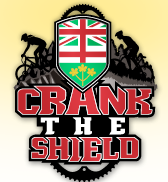 September 13, 2012 (Haliburton, , ON) – Chico Racing is proud to host the 4th edition of Crank The Shield, Eastern Canada's largest 3 day mountain bike stage race, September 14 to 16 in Haliburton County, Ontario.
Consisting of 3 days and over 220 kilometers of rugged singletrack, hydro cut, and cottage access roads, Crank The Shield is a once in a lifetime experience for riders of all abilities. Beginning and ending at the Haliburton Forest Centre, Crank will follow a lollipop format with riders spending both nights at the renowned Camp White Pine. At White Pine riders will be treated to comfortable beds, warm showers and a spread of food capable of fueling the entire Tour de France! To cap off the weekend, Chico Racing will host the BBQ banquet of your dreams for riders to sit back and reminisce about the great times and new friendships formed at Crank 2012.
Known for attracting some of Canada's top talent, this year will see Geoff Kabush (Scott-3Rox) do battle with teammate Derek Zandstra and a host of other top riders in their quest for the Crank The Shield victory. Hot off his 8th place in London, Kabush will be bringing his world class form into the event where anything can happen on the rugged Canadian Shield. Zandstra will surely be a force to reckon with after his 23rd at World Championships just one week ago, setting the stage for an epic battle. Not only for North America's most talented racers, Crank The Shield 2012 will see 220 riders challenge themselves amongst the beauty that is Haliburton cottage country.
Be sure to follow the action this weekend, as updates will be posted daily, with full results available here.
Tour de King – Sept. 30
An event for everyone from the first-time rider to the seasoned pro taking you for a ride on some of the best back-roads, trails and terrain that Southern Ontario has to offer. This is a great course for mountain bikes, and cyclo-cross bikes with about 20% paved road, 30% gravel road and 50% trail (less trail for the 35 km)!  At the finish line a cycling festival with an amazing kid's race, band, expo area and barbeque await!  Better weather is planned for the 2012 edition of the Tour!
For more info visit here.