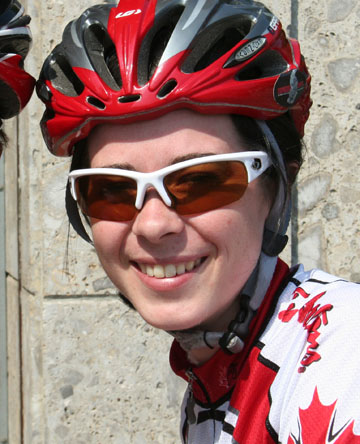 September 05, 2012 (London, GBR) – The road events started today in London at the 2012 Paralympic Games, and Canada secured its first medal of the Games, with Marie-Claude Molnar taking the bronze medal in the women's C4 category.
Molnar raced the 16-km course with a time of 26:48.52 to secure the third place.
"This is a tough course, so it hurts as it is supposed to. I was in good hands with my coach who followed me in the car. We had a good preparation with a good training. I'm really happy with the support that we received throughout the years. These are people who do exceptional work to ensure that we perform to our potential," said Molnar. "This medal takes the pressure off the team. We looked at the chances of medals today, and we are all happy to win this first medal."
"It certainly prepares the legs for the road races, good workout! Tomorrow, it will be much harder. It is eight laps instead of two. I expect a much more difficult race. After a time trial race, there is not much left in the legs. I'll rest tonight and get fresh tomorrow," said Molnar.
The World Champion tandem of Robbi Weldon and pilot Lyne Bessette placed fourth with a time of 35:47.94, while the tandem of Geneviève Ouellet and pilot Emilie Roy finished eighth at 36:46.14. In the men's tandem action, Canada's Daniel Chalifour and pilot Alexandre Cloutier also placed fourth, stopping the clock at 31:35.68.
"Fourth place is the cruelest as an athlete, because nobody will remember you in a few years. We always remember those who have won medals. For me and Alex [Alexandre Cloutier], we finished fourth in the pursuit in Beijing in 2008, and this year it's in the Time Trial. We had a puncture on the last corner, which made ‹‹us lose precious seconds.
"We had a great game plan … We started with a lot of rhythm. This circuit requires very little technical abilities, and with a lot of ascents and descents. Unfortunately, this is not a technical course, and we are very strong on a technical course. We are emptied, we gave everything we had, and we had bad luck at the last turn," said Daniel Chalifour. "Still, I am very happy. We are still in fourth place at the Paralympic Games. They are the best in the world, everyone wants to win here."
Other Canadian results are: 11. Shelley Gautier, Tricycle (16:50.61); Marie-Ève Croteau, Tricyle (DNS); 12. Arnold Boldt, C2 (27:31.82); 7. Brayden McDougall, C1 (28 :17.49); 9. Jaye Milley, C1 (29:25.57); 11. Mark Beggs, H2 (31.11.80); 10. Robert Labbé, H1 (44.47.70).
The road cycling events at the 2012 Paralympic Games continues tomorrow with the start of the road races.
Results
Women's C4 TT
1. Megan Fisher (United States of America) 26:04.4
2. Susan Powell (Australia) 26:31.3
3. Marie-Claude Molnar (Canada) 26:48.5
4. Alexandra Green (Australia) 27:43.6
5. Jianping Ruan (People's Republic of China) 30:16.7
6. Roxanne Burns (South Africa) 32:39.2
Women's B TT
1. Netherlands (Kathrin Goeken/K. Van Dijk) 35:02.7
2. New Zealand (Phillipa Gray/L. Thompson) 35:07.7
3. Ireland (Catherine Walsh/F. Meehan) 35:29.6
4. Canada (Robbi Weldon/L. Bessette) 35:47.9
5. Ireland (Katie George Dunlevy/S. Fitzgerald) 35:48.1
6. Spain (Josefa Benitez Guzman/M. Noriega) 36:23.3
7. Great Britain (Lora Turnham/F. Duncan) 36:29.3
8. Canada (Genevieve Ouellet/E. Roy) 36:46.1
9. Netherlands (Joleen Hakker/S. Van Steenis) 37:27.9
10. France (Martine Chaudier/L. Girard) 38:16.0
11. Belarus (Iryna Fiadotova/A. Drazdova) 38:21.4
12. Germany (Henrike Handrup/E. Heiny) 38:41.7
DNF Greece (Adamantia Chalkiadaki/A. Milaki)
Men's B TT
1. Spain (Christian Venge/D. Llaurado Caldero) 30:48.2
2. Italy (Ivano Pizzi/L. Pizzi) 30:50.4
3. Ireland (James Brown/D. Shaw) 31:13.0
4. Canada (Daniel Chalifour/A. Cloutier) 31:35.7
5. France (Damien Debeaupuits/A. Febvay) 31:38.7
6. Slovakia (Vladislav Janovjak/R. Mitosinka) 31:38.8
7. Poland (Krzysztof Kosikowski/A. Korc) 31:48.9
8. United States of America (Clark Rachfal/D. Swanson) 31:54.0
9. Finland (Jarmo Ollanketo/M. Tormanen) 32:07.2
10. France (Olivier Donval/J. Saccomandi) 32:17.5
11. Spain (Miguel Angel Clemente Solano/DJ. Munoz) 32:20.6
12. Netherlands (Rinne Oost/P. Bos) 32:33.7
13. Australia (Bryce Lindores/S. Finning) 33:12.3
14. Serbia (Milan Petrovic/G. Smelcerovic) 34:20.8
15. Malaysia (Mohd Khairul Hazwan Wahab/KN. Azhar) 37:20.5
16. Argentina (Alberto Lujan Nattkemper/J. Ithurrart) 38:23.8
17. Greece (Christos Stefanakis/K. Troulinos) 42:14.2
DNF Australia (Kieran Modra/S. Mcphee)