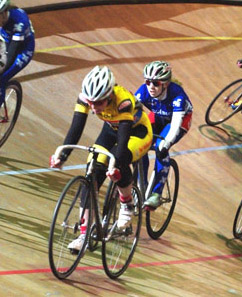 August 31, 2012 (London, ON) – The Forest City Velodrome is pleased to announce 3 extra training sessions for riders from Ontario who are attending Track Nationals in Dieppe this September.
The focus of the sessions will be the Individual Pursuit schedules for each rider.  Whether 2, 3 or 4k….. riders will be able to spend time on the boards to work on Pacing and gearing for their event.
Sessions:
- Tuesday September 4th – (6:30pm – 8pm)
- Friday September 7th – (6:30pm – 8pm)
- Sunday September 9th – (10am – Noon)
Good luck to all Ontario riders at the 2012 Canadian Track Championships.
Riders may drop their road and track bikes off at the track during the Sunday session for travel to Dieppe.
For more information visit here.