July 09, 2012 (Barrie, Ontario) – Ryan Roth, fresh off earning the men's road race title at the Canadian National Road Cycling Championships last month, has committed to compete in the Hell in the Horseshoe event at Centurion Ontario (Horseshoe Valley) on Saturday July 14 at 2:00 p.m.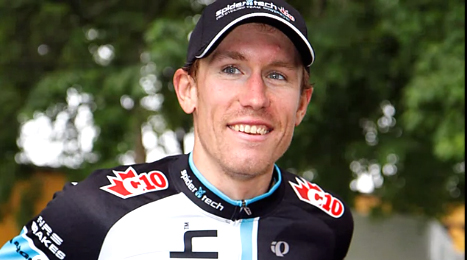 Hell in the Horseshoe is a high intensity hill climb criterium, whereby 30 elite cyclists will race 30 kilometers over 12 hills and the first across the finish line wins.  Roth and others will showcase their skills and test their stamina in this unique event that is being filmed to air on television this fall. The event has a total prize purse of $5,000.
Talking about his victory at nationals, Roth had said, "It was so tight at the finish line. I did not even raise my arms for fear of being passed. It's always hard to do a sprint finish, and I wanted the victory." If Roth has his way at Hell in the Horseshoe, he'll get another hard fought victory. "I won't be doing any team races in July, so this is a good opportunity for me and I hope it's as hard as it sounds!"
Spectators are welcome and highly encouraged to come watch Hell in the Horseshoe, which will take place on Horseshoe Valley Road near the entrance to Horseshoe Resort.
Hell in the Horseshoe is part of Subaru Centurion Ontario (Horseshoe Valley), presented by Cervelo.  The two-day event geared toward cyclists of all levels begins on Saturday morning with the Centurion 25K ride, followed by the Hell in the Horseshoe Saturday afternoon, and then concludes on Sunday morning with the Centurion 50K and Centurion 100K events.
"Centurion Cycling is about taking the incredible sport of cycling to a whole new level," said CEO Graham Fraser, the endurance sporting event pioneer who created the Subaru Triathlon Series and expanded the sport of Ironman throughout North America. "We all ride for different reasons and with varying goals, yet no matter whether you race or ride, everyone wants incredible roads to ride on and to be treated like a pro," said Fraser.
At Centurion Cycling events, that means presenting unique venues, challenging courses and a high quality of production including traffic control by law enforcement giving cyclists the right-of-way throughout, coordinated start with pace corrals, chip timing from start to finish, full support, feed zones on the course, a finish line festival and the Centurion Expo featuring the latest in bikes and cycling gear.
Building upon the momentum generated from the 3,500 cyclists who participated in Subaru Centurion Canada (The Blue Mountains) last fall, the Centurion Cycling movement is on at Horseshoe this weekend.
For more information click HERE.