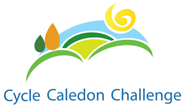 July 05, 2012 (Caledon, ON) – The Shut Up Legs Cycling Club is proud to present the inaugural Cycle Caledon Challenge (CCC) bicycle tour on Saturday July 28.
The CCC is a bicycle tour designed for the road cycling enthusiast. The route will take you along the picturesque Niagara Escarpment and the Hills and Headwaters of the Credit River. Register today for the 40 km, 100 km (metric century), or the 160 km (100 miler) distances.
If you have never done a single day bike tour, here's what you can expect: A carefully chosen route on quiet roads with all turns well marked, water/snack stops to keep you hydrated and fuelled along the way and road patrols to help you with any mechanical issues with your bike.
Enjoy riding your bike with friends and make new friends while taking in the beauty and challenging yourself to complete a new distance or the comfort of a familiar distance.
Register today HERE.
The CCC is in support of Trails Youth Initiatives.