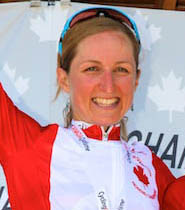 July 04, 2012 – For the past two weeks, CBCSports.ca has asked the question: Who should be Canada's flag bearer at the opening ceremony of the London Olympics on July 27? The final matchup between triathlete Simon Whitfield and mountain biker Catharine Pendrel drew more than 34,000 votes, bringing the total for the tournament past 138,000.
Whitfield, No. 2 seed, defeated popular show jumper Ian Millar by only 11 total votes in a poll that drew more than 29,000 responses to make the final but finally met his match. Pendrel, the mountain bike world champion who was seeded No. 8, proved to be the the Cinderella choice knocking off all contenders including fellow cyclist and multi-Olympic decorated, Clara Hughes.
Canada's Choice for Olympic Flag Bearer is PENDREL – read more here.