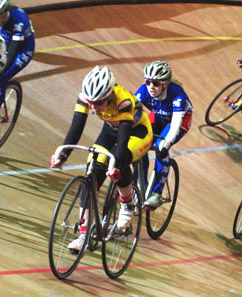 July 03, 2012 (London, ON) – The Forest City Velodrome in London will add more structured training sessions for the next five weeks leading into the Ontario Track Championships. Many riders have asked for additional time and we want track records to fall during the Track Championships Friday, August 3rd and Saturday, August 4th.
The extra track time will begin Wednesday July 4th.
- Monday afternoon: 4:30pm – 6:30pm
- Wednesday race Training: 7pm – 9pm
- Saturday's: 1pm – 3pm
This service is free to FCV members. $20.00 for non members.
Pacing for Pursuiting, High speed for sprinters, endurance efforts for everyone.
The staff will accommodate specific training requirements so that all Athletes can achieve their goals.
Contact: ForestCityVelodrome@live.com