July 01, 2012 (Lac Mégantic, QC ) – Lac Mégantic hosted today the sixth and final day of the 2012 COLD-FX Canadian Road Championships presented by Canadian Tire, and the fan-friendly criterium races were showcased during Canada Day celebrations.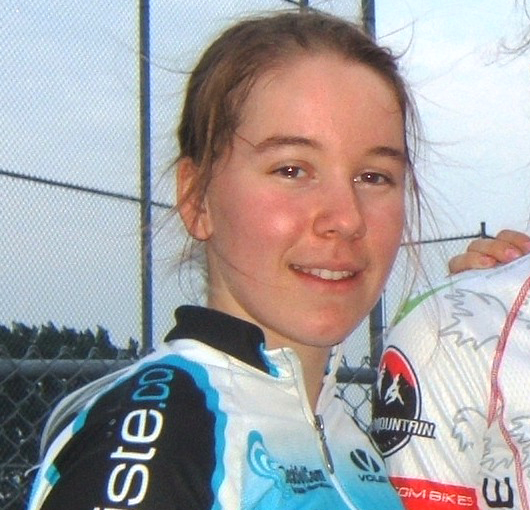 In the featured Junior criterium races, Eliott Doyle raced to the top prize in the men's race, after 36 laps of the 1.1km course. Emmanuel Gagné (Alma Acura Ultarviolet Devinci) took the second place, followed by Brendan Eztl (Team SpiderTech powered by PowerWatts) in third.
"I'm very happy. Yesterday, I wanted to perform well because I was second in the road race last year, and I put too much pressure on myself and crumbled. Today I was back, now a National Champion," admitted Doyle.
"We expected to always have a member of the Quebec team in attacks. I am one of the best sprinters in Quebec, so I managed to get to the end and do my job."
In the junior race, Audrey Labrie (Team Piste.ca) raced to the Maple Leaf jersey. In the 30-lap race, Labrie crossed the finish line first in the bunch sprint, followed by Kinley Gibson (Team Alberta) and Rosalie Cardin-Houle (CC I am Gold).
"I'm really happy since yesterday was such a disappointment for me not to win. To have the title now is a great victory because it allowed me to show others my sprinting abilities," expressed Labrie. "I wanted to stay in the pack, since I was alone from my team, and I knew there would be a lot of attacks from other teams. I sneaked up to the front in the end. I had to be in second place of the last corner to start the sprint."
The Masters races were also held prior to the junior races. In the men's 30+ race, Dominic Picard had an amazing race, riding 32 laps in a solo breakaway towards the gold medal and Canadian title. Stéphane LeBeau won the Masters Men 50+ race, while Olympian John Malois [1992, Barcelona, Points race] won the bunch sprint of the Masters Men 40+ race. Julie Marceau won the only women's master race, which was held at the same time as the Junior women race.
Cycling Canada would like to take this opportunity to thank the organizing committee, le Tour de Beauce, for organizing top-notch races, the city of Lac Mégantic for the warm welcome into its charming city, as well as all the partners, collaborators and volunteers of the event, notably COLD-FX and Canadian Tire.
Results
Junior Men
1. Elliott Doyle (QC) Équipe du Quebec 0:52:30
2. Emmanuel Gagne (QC) Alma Acura Ultraviolet Devinci
3. Brandon Etzl (ON) Spidertech propulsée par Powerwatts
4. Olivier Brisebois (QC) Équipe du Québec
5. Eric Johnstone (AB) Team Alberta
6. Benjamin Perry (ON) Team CHCH
7. Hendrik Pineda (QC) UCS Crabbe-Performance
8. Vincent De Haître (ON) team ontario
9. Nigel Ellsay (BC) Cycling BC
10. Yohan Patry (QC) Équipe du Quebec
11. Sam Morris (BC) Cycling BC
12. Max Toeldte (ID) BYRDS
13. Edouard Dumas-Longpré (QC) Sherbrooke (club cycliste)
14. Olivier Hokmi (QC) Équipe du Québec
15. Benjamin Chartrand (QC) Éspoirs Quillicot
16. David Drouin (QC) Équipe du Québec
17. Shawn Turcotte (QC) Rocky Mountain-Forget -Aubin
18. Adam Jamieson (ON) Team CHCH
19. Neil Symington (NB) Centre National Atlantique
20. Connor Nevin (ON) Aquila/Racer Sportif/Mattamy Homes
21. Rafael Gagnon-Gascon (QC) Alma Acura Ultraviolet Devinci
22. Julien Roussel (NB) Centre National Atlantique
23. François Vaillancourt (QC) Éspoirs Quillicot
24. Jack Burke (ON) Aquila/Racer Sportif/Mattamy Homes
25. Samuel Gagnon (QC) CC IAMGOLD
26. Frederic Cossette (QC) Équipe du Quebec
27. Benjamin St-Onge (QC) Rocky Mountain-Forget -Aubin
28. Lambert Gatineau (QC) Spidertech propulsée par Powerwatts
29. Marc-Antoine Soucy (QC) CC IAMGOLD
30. Justin Mallet (NB) Centre National Atlantique 0:08
31. Samuel Ratzke (AB) Team Alberta
32. Maxime Leboeuf (QC) Atrium
33. Jerome Corneau (QC) Éspoirs Quillicot
34. Isaac Niles (AB) Team Alberta 0:12
35. Jules Cusson-Fradet (QC) Prud' Homme-IGA Ste Martine 0:15
36. Samuel Gauthier (QC) Atrium
37. Sean Mackinnon (ON) Team Ontario
38. Quinn Moberg (BC) Cycling BC/Trek Red Truck p/b Mosaic
39. Travis Samuel (ON) Team Ontario/Kallisto/Wheels of Oakville 0:21
40. Marc Antoine Noel (QC) Spidertech propulsée par Powerwatts 0:25
41. Jasmin Houle (QC) Prud' Homme-IGA Ste Martine
42. Pierre Robitaille (QC) Atrium 0:29
43. Nicolas Masbourian (QC) Éspoirs Quillicot 0:38
44. David Fugère (QC) Atrium
45. Vincent Désilets-Jacob (QC) Éspoirs Quillicot
DQ William Simonds (ON) Team Ontario
DNF Rui Xu (ON) Team CHCH
DNF Benjamin Veillette (QC) CC IAMGOLD
DNF Edouard Tougas (QC) Rocky Mountain-
DNF Jackson Pickell (BC) Cycling BC
DNF Trevor Pearson (BC) Team BC
DNF Fabien Parent (QC) Atrium
DNF Antoine Muzzi (QC) Spidertech propulsée par Poerwatts
DNF Olivier Miclette (QC) Equipe du Québec
DNF Miguel Lukaszewicz (QC) Prud' Homme-IGA Ste Martine
DNF Tyler Lee (ON) Team Ontario
DNF Adam Kopera (ON) Team Ontario
DNF Vincent Joinette (QC) Prud' Homme-IGA Ste Martine
DNF Marc-Antoine Germain (QC) CC IAMGOLD
DNF Carl Gagnon (QC) Atrium
DNF Arnaud Gagnon (QC) Espoirs de Laval
DNF Max Gabaldo (ON) Team CHCH
DNF Simon Fothergill (ON) Team CHCH
DNF Marc Evers (NB) Centre National
DNF William Etherington (ON) TWC TEMPO
DNF Jordan Duncan (BC) Cycling BC
DNF Nicolas Ducharme (QC) Éspoirs Quillicot
DNF Devin Doiron (NB) Centre National
DNF Henri De Boever (BC) Cycling BC
DNF Aidan Caves (BC) Cycling BC
DNF Evan Carey (BC) Cycling BC
DNF Jérôme Bastien (QC) CC IAMGOLD
DNS Christopher Prendergast (MB) Team Manitoba
Junior Women
1. Audrey Labrie (QC) Piste.ca 0:45:42
2. Kinley Gibson (AB) Team Alberta
3. Rosalie Cardin-Houde (QC) CC IAMGOLD
4. Alex Grant (BC) Cycling BC
5. Robynne Shannon (BC) Cycling BC
6. Julie Marceau (ON) LapDogs
7. Carole Vanier (QC) Indépendant
8. Carol Deavy (ON) Les Rouleurs de l'Outaouais
9. Jenna Leonhardt (MB) Team Manitoba
10. Noémie Fréchette (QC) Atrium
11. Amélie Bruneau (QC) Éspoirs Quillicot
12. Madeleine Mcconnell (ON) Team CHCH
13. Bailin Xie (ON) Team Ontario
14. Kristen Sears (ON) Invita -FCV
15. Élise Brouillette (QC) Éspoirs Quillicot
16. Saskia Kowalchuk (ON) Team CHCH
17. Ève Desjardins (QC) Atrium
18. Sarah Mason (ON) Team Ontario
19. Josiane Lessard (QC) VCL- André Cycle
20. Roxanne Pepin (QC) Équipe du Quebec
21. Clara Mackenzie (BC) Cycling BC
22. Janie Rioux-Coulombe (QC) Équipe du Quebec
23. Marie- Eve Poisson (QC) Équipe du Québec
24. Ariane Bonhomme (QC) Équipe du Quebec
25. Léa Audet (QC) Équipe du Québec 1:21
DNF Tarryn Côté (BC) Cycling BC
DNF Rosalie Cyr (QC) CC IAMGOLD
DNF Sophie De Boever (BC) Cycling BC
DNF Allyson Gillard (QC) Équipe du Québec
DNF Anne-Marie Jean (QC) Atrium
DNF Gabrielle Matte (QC) CC IAMGOLD
DNF Christiana Moser (BC) Cycling BC
DNF Brenna Pauly (BC) Cycling BC
DNF Renaude Tousignant (QC) CC IAMGOLD
DNS Shelly Mckee (ON) Novofit/Compass 360 Racing
DNS Robyn Angeles (ON) Indépendant
Masters Women
1. MARCEAU, Julie (ON) Lapdogs 45:42
2. VANIER, Carole (QC) Indépendant ST
3. DEAVY, Carol (ON) Les Rouleurs de l'Outaouais ST
Masters 30-39
1. PICARD, Dominic (QC) Quilicot-Rackultra 59:47
2. DOYON, Francois (QC) Quilicot-Rackultra +0:22
3. MACDONALD, Geoff (AB) ERTC/Revolution Cycle +0:23
Masters 40-49
1. MALOIS, John (QC) Suarez-ACQ 1:02:54
2. TODD, André (QC) Cycle Néron Cinelune ST
3. DAGENAIS, Richard (ON) Timmins Cycling Club ST
Masters 50-59
1. LE BEAU, Stéphane (QC) Suarez-ACQ 49:25
2. SANCHEZ, Miguel (QC) Sports Bazar +0:02
3. ADAMS, Sylvan (QC) Powerwatts-FITTIME +0:09
Masters 60+
1. MALOIS, John (QC) Suarez-ACQ 1:02:54
2. TODD, André (QC) Cycle Néron Cinelune ST
3. DAGENAIS, Richard (ON) Timmins Cycling Club ST