June 30, 2012 (St-Augustin-De-Desmaures, QC) – Connor McCormack and Amelia Walsh both took the top prize at the inaugural Canada Cup BMX race in St-Augustin-de-Desmaures, near Québec City.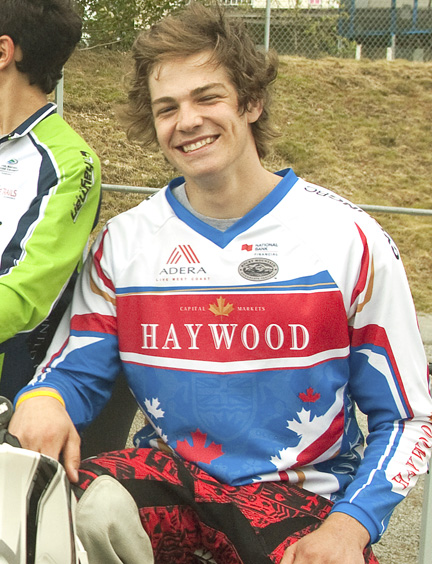 McCormack, riding with Cycling BC, easily took the first place of the Men's Elite category, winning all three motos to combine the maximum points. Michel Beaudoin of BMX Cap de la Madelaine finished second, while Vincent Gingras of BMX Pointe du Lac ranked third.
In the Women's Elite races, Amelia Walsh of Team Ontario also swept clean all three motos. Sarah Biron of BMX Pointe du Lac took the second spot, followed by Amanda Landers of CyclingBC.
A total of 34 riders took part in this first race of this brand new Canadian cycling series. The second race of the series will be held tomorrow, also in St-Augustin-de-Desmaures.
Full results HERE.
Results (brief)
Elite Women
1. Amelia WALSH (Ontario) ON [1,1,1]
2. Sarah BIRON (BMX Pointe du Lac) QC [2,2,2]
3. Amanda LANDERS (BWJ) (British Columbia) BC [3,3,3]
Elite Men
1. Connor MCCORMACK (British Columbia) BC [1,1,1]
2. Michael BEAUDOIN (BMX Cap de la Madeleine) QC [2,2,2]
3. Vincent GINGRAS (BMX Pointe du Lac) QC [4,3,3]
Junior Men
1. James PALMER (British Columbia) BC
2. Corey WALSH (Ontario) ON
3. Alejandro LONDONO (Indépendant-BMX) QC
Junior Development Women
1. Erin KINNIE (British Columbia) BC [1,2,1]
2. Marilou CYPIHOT- TREMBLAY (Cycle-Max Racing) QC  [2,1,2]
Junior Development Men
1. Hayden MECHIELSEN (British Columbia) BC
2. Braden WOOD (Ontario) ON
3. Gaby MALENFANT (BMX St-Charles-de-Drummond) QC