April 23, 2012 – Specialized is pleased to partner with Chico Racing to host a Demo Day at Albion Hills on May 6, 2012 from 10am until 2 pm. Come and preview part of the Summer Solstice race course on a new 2012 Specialized Demo bike! You will have your choice of Epic, or Stumpjumper (FSR & HT). For those who prefer to ride on the road, we will have your choice of Roubaix, Secteur, Tarmac, and Venge.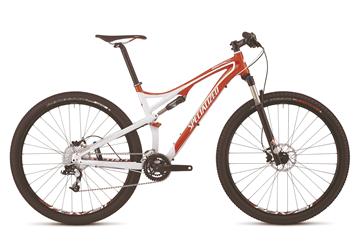 Each ride will be 45 minutes, and at the end you will receive a free Specialized water bottle! Don't forget to bring your helmet, shoes and pedals. We also recommend that you bring your bike as that is the easiest way to approximate measurements for your test ride. Please remember that normal trail fees will apply.
For info on trail fees and Albion Hills please click HERE.
Specialized is also a proud sponsor of the 15th anniversary of the Summer Solstice. Come and visit the Specialized booth at the race and take a 2012 Specialized bike out for a ride & some other fun surprises! If you are riding a Specialized bike on lap you will receive truly royal treatment: reserved bike parking in the holding area, special prizes on course and other perks! Specialized is also giving away an Epic Comp 29er as a draw prize.
Because we love to have fun, we'll also be offering prizes for the best costume, team with the most spirit, and others. Keep watching the Chico website for more info and surprises as we get closer to the race! Register now for the 24 Hours of Summer Solstice at www.chicoracing.com
PLASTIGLAS ONTARIO CUP SERIES REG CLOSES APRIL 25
Every season people forget to take advantage of the Ontario Cup Series Full Series Entry that is ending April 25. This entry includes all 7 events, savings and the t-shirt to go with it!
Register now for the full series including Canada Cup now and save money. After April 25 we will no longer accept registrations for the full series.
Word from Chico
Another season approaches and we're looking forward to seeing many friends, customers, familiar faces and some new ones! The support we receive to continue organizing great mountain bike events is amazing.
Thanks to all of our sponsors including some of our long-time major supporters including Kijiji.ca, Sporting Life, Shimano Canada, eLoad, Plastiglas Industries, Outdoor Gear Canada, Opus Bikes, Norco Performance Bikes, Kicking Horse Coffee, Wellington Brewery, Hammer Nutrition, and Louis Garneau.
Thanks to our Plastiglas Ontario Cup supporters including Trek Bike Store Toronto, Esteem Training, Black Tooth Grin, Finish Line, HBCC, Joyride 150, Skiis and Biikes, Pedal Magazine, Team Hardwood, Total Sports The Bikeshop Midland, Two Wheel Racing, Recharge with Milk, Arrow Racing, Ecclestone Cycles and Evolution Cycles.
Plus some of our exclusive 24 hour sponsors including Specialized Bikes, Light & Motion, Camelbak, Topeak, and Sigma. Our Tour de King receives awesome support from our friends at Pfaff Audi and Bikesports Newmarket and Aurora!
Without their help, and support, as well as the tireless work of our staff, the Ontario Cycling Association, volunteers and our venues these events wouldn't be possible.