April 21, 2012 (Monterey, California) – On a blistering day of record high temperatures, another hotly contested Pro Women's Short Track was being tested on dusty single tracks that took its toll on the 35 riders (only 15 finished). Many riders on the start line flew in from Europe on Tuesday were running on little sleep and lots of grit.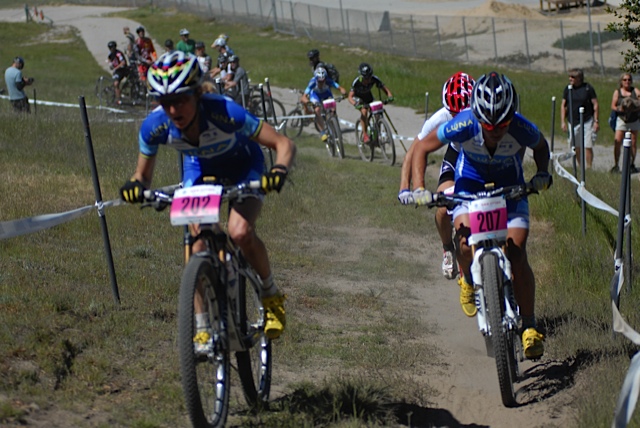 On an identical track as last year, but much warmer this time, most of the same World Cup pro riders showed up again despite their busy schedules, including lots of Canadians as usual, as the Sea Otter races are another test for a coveted spot with Catharine Pendrel (Luna Pro) for this year's London 2012 Olympics.
Again, the Luna Pro team dominated the race with their three stars including 2011 MTB World Champion Pendrel, who "…wanted to test the legs out with a great field of world cup riders". Working with Katerina Nash from the Czech Republic and Georgia Gould, it was another display of Luna Pro team dominance, taking first and third with Gould a respectable 6th – Pendrel chatted with Pedal post-race.
Emily Batty (Subaru-Trek), who has done well in this race at Otter before, had a mishap at the first uphill and battled her way up the field to stay inside the top ten with Kelly Emmett and Meredeth Miller trading pulls up the unforgiving hard track and  fast corkscrew turns. "It was one of those days that was actually kind of fun despite getting behind; I'm still a bit off center from coming back from Europe but I love this race and getting excited about tomorrow's race (she won on her 29er in a thrilling duel with Pendrel last year)," said Batty – see full interviews below.
Amanda Sin (Scott-3Rox Racing) raced well for much of the eight laps coming in 13th showing good form as the second oldest finishing rider along with Nash. It shows as five of the top ten were at least 30 years young, indeed this is a sport where experience shows up in the toughest of races.
Plaxton Defends his Men's Title
It was a day for a six pack on so many levels. The normally cool or foggy Monterey climate became almost desert dry, getting hotter by the moment, with no shade in sight. Cracking open a case of a half dozen World Cup riders at the Sea Otter Classic, the pros were reeling from the staggering temperatures (and lack of sleep for some due to their European World Cup schedules). What resulted was the top six riders stuck together for all 16 lap of the grueling 20-minute race of attrition, with only 14 making up an all-out, gasping for moisture group, that survived out of 58 starters.
On a day where everyone expected the annual display of Specialized Pro team's one-two punch (Max Plaxton, from Victoria, and Todd Wells, an American), two riders did fight it out almost to the finish line – but they were both Canadians. Max Plaxton, who won last year, battled with Geoff Kabush (Scott-3 Rox Racing) along with a posse of Americans as Plaxton prevailed to repeat again this year.
Kabush, who missed last year, settled for third after battling it out with the other five leaders on the last lap. Sam Schultz (USA) Subaru Trek was sandwiched between the Canucks landing in second place while US riders followed in suit with Jeremy Horgan-Kobels (Subaru Trek) 4th, Barry Wicks (Kona) 5th and Todd Wells (Specialized), who was behind the group until he finally clawed his way back, rounded out the lead group in 6th.
Plaxton, who barely broke a sweat, seemed ready for another few laps: "I felt really good, the kick was working well and I just knew I'd do well today and I'm really ready for tomorrow's race." – full interview below.
Kabush, who also flew in recently from Europe was as always gracious and happy to compete. "Yea, this track is a good test to see how the pain threshold holds for us and is always a good way to feel the legs burn a bit," he told Pedal – see full interview.
Like the Pro Women's race which finished just 15 minutes prior the men's Short Track race was so fast and hard to ride that over 2/3 of the field were lapped and dropped as the course was rounded in less than 4 minutes so any bunch up or stack up would almost promise you a free pass out of the race.
The rest of the Canadian riders felt the bite of this harsh day though Adam Morka (Trek Canada), Neal Kindree (Specialized), Kona riders Kris Sneddon and Cory Wallace along with Cameron Jette (Scott-3Rox Racing) all seemed poised to finish the race, the front runners were just too fast for the field. Also racing for Canada were Peter Glassford (Trek Canada), Andrew L'Esperance (Norco Factory Team), Tyson Wagler (Scott-3Rox Racing) and Derek Zandstra (Scott-3Rox Racing) who DNF'd.
Full results and more photos HERE.