March 18, 2016 (Gatineau, Quebec) – The world's best women cyclists will be back in Gatineau in June, for the Grand Prix Cycliste Gatineau's 7th edition. Top rides from around the globe will face off on Gatineau's asphalt for the Road Race event on June 2nd, and the Time Trial event on June 3rd.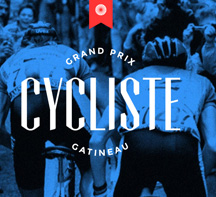 GP Cycliste Gatineau is proud to announce modifications to the Grand Prix and Time Trial circuits, which will bring professional cyclists into downtown Gatineau. The start of the Thursday race will take place at the intersection of Rue Aubry and Promenade du Portage, while the finish line of Friday's Time Trial will be set at this same location.
Coupe Québec Cuisses Or de l'Outaouais, recognized by the FQSC as part of their series for the youth category, is back this year with a Road Race on June 4th and the Sprint event, the Skill Competition event and the Criterium on June 5th.
Also back this year for the 2016 edition, our Fondos events of 118.8 KM or 69.3 KM on safe and closed roads passing through Allumetières Boulevard and the magnificent paths of the Gatineau Park. Over 500 cyclists from all across Quebec and Ontario are expected again this year.
Registrations for the Medio and the Gran Fondo are currently opened on our website: grandprixcyclistegatineau.com. Finally, the Velo Village will be offering a wide array of activities, local bicycle vendors and specialized services, near Brodeur Street.
More information here.