July 15, 2011 – Now celebrating its 4th edition, the Tour de Québec, continues more and more to be a special cycling event on the calendar. For 2011, we're repeating the 2-day formula which saw the repeat success of professional rider Guillaume Boivin, from SpiderTech p/b C10 after his first win in 2008 while still an amateur.
The green mission
2011 also marks a major turn in our activities. We intend to put the promotion of cycling and its benefits for the environment as a priority. We are very proud to be associated with One percent for the planet, a growing global movement regrouping thousands of companies donating 1% of their sales to environmental organizations worldwide.
For 2012-2014, we plan to introduce a popular major event in which participants take part in a fund raising competition benefiting environmental groups and other socials causes.
The stages
About the race itself, the points system previously used in 2010 will not be continued to avoid confusion for riders. The traditional time classification will be used.
The sames stages which offer the potential for large groups of spectators will be used once again this year.
Stage 1: "Drag race" Sprint 250m, Rue St-Jean, Québec
Stage 2: Critérium 50km, Rue Loyola, Beauport
Stage 3: Road race 143km, Rue Racette, St-Augustin
A high level event !
Each year, the Tour manages to attract some of the best cyclist of the country. Just look at past winners…
– Guillaume Boivin won the Tour de Québec in 2008 and again in 2010. He later won a bronze medal at the Road World Championships.
– Charles Dionne participated in the last three editions of the race and managed to win three stages and the KOM and Sprint Jersey in 2009.
Eventhough we don't know the complete 2011 peloton, we are expecting a very competitive field once again. Don't miss the opportunity to come and cheer on your favourite cyclists.
A world champion at the 4th Tour de Québec
Swiss Franco Marvulli, 4-time world champion on the track, accepted our invitation to cross the continent and compete in the 2011 event. A true six-day star on the track, Marvulli promises to give his best to try and win, although he expects it to be a tough challenge ! Visit his web site HERE.
Women and masters races.
The women's field is once again competing at this stage race format.
The masters categories will race on the same course as the men and women and the following categories will be competing – Masters A (30+), B (35+) and C-D (40+). Last year, more than 100 riders participated in the masters races and we expect a big success once again.
Media Challenge
After a first test in 2010, we will have a media and celebrity challenge once again. Last year, speed skating espoir and former elite cyclist beat Tae-Kwando Olympian Sébastien Michaud in a sprint.
Info and registration HERE.
TDF evening at the cage aux sports and VIP ride.
On Thursday, July 21st, at 19h00, you are cordially invited to listen to Stage 18th – the Queen stage at the Tour de France. Franco Marvulli and other athletes will be present. Many prizes for participants.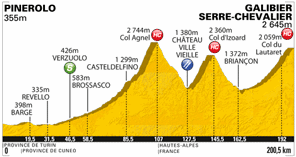 Price is 20$ / person (all taxes included) and include a full meal (chicken with French fries) and drinks.
Register now
Info and registration HERE.