September 07, 2013 (Whistler, BC) – With clouds and a sprinkling of showers in the morning, more than four thousand cyclists began their epic 122-km ride from downtown Vancouver to Whistler Resort in the fourth Annual RBC GranFondo Whistler. By early afternoon, all finishers were enjoying the sun shine and celebrating their accomplishments in Whistler's Olympic Plaza.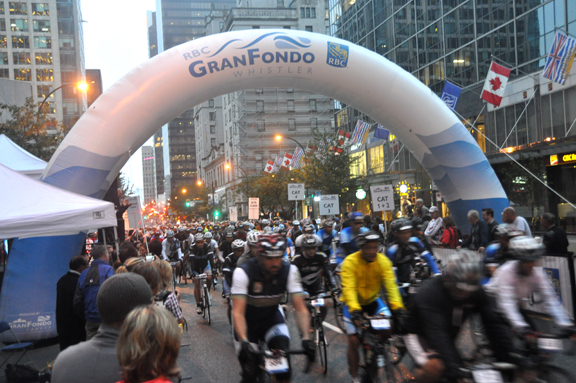 "Today was another incredible day for cycling," said Kevin Thomson, CoFounder GranFondo Canada. "We are privileged to hold this fully supported ride on one of the most beautiful highways in the world."
In this, the fourth year of the event, there were participants from 17 different countries including some from as far away as Chile, Japan and Australia.
"Our community is thrilled to cheer on the riders as they make their way up the Sea to Sky Highway to the finish and celebration at Whistler Olympic Plaza each September," said Whistler Mayor Nancy Wilhelm-Morden. "The popularity of road cycling among our visitors and community has increased dramatically, and the GranFondo has become a signature annual event for our community."
In honour of the RBC GranFondo Whistler on Saturday, September 7, 2013, the RBC Blue Water Project is donating $30,000 to the Pacific Salmon Foundation, an independent, non-government, charitable organization. The Foundation protects, conserves, and enhances wild Pacific Salmon populations in B.C. and the Yukon and the funds will support projects in the Sea to Sky corridor.
"The RBC GranFondo Whistler, a spectacular community event, has helped RBC engage with our clients and our employees in an exciting and different way," said Graham MacLachlan, Regional President, BC, RBC Royal Bank, and a four-time RBC GranFondo Whistler participant. "We've developed a cycling program to help our clients and employees prepare for the race. Additionally, many of our employees volunteered today and even more came out to cheer on our clients, colleagues and all the RBC GranFondo Whistler riders."
First to cross the finish Line was Will Routley (Whistler) with a time of 3 hours, 21 minutes and 11 seconds and in the women's division, Leah Guloien (Port Moody, BC) with a time of 3:23:48.
The date for the fifth annual GranFondo Whistler has been set for September 6, 2014. Registration opens on Sunday, September 8th at 9:00 am.