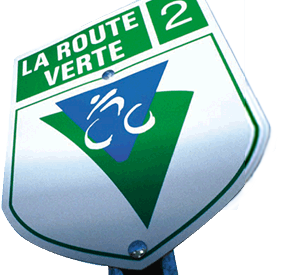 October 29, 2015 (Quebec City, QC) – A petition with 48,000 signatures was filed on Oct. 26 with 13 MNAs (provincial legislators) from 10 regions asking the Quebec government to restore its cost-sharing maintenance program for the Route Verte. This is part of a process in which all political parties in Quebec's National Assembly (legislature) will be asked stress to the Government the importance of the Route Verte, a 5,300km network of bike paths. The sustainability of this network, which crosses nearly 400 municipalities in 16 regions of Quebec and 94 regional districts, must be a priority.
The following MNAs received a copy of the petition "Save the Route Verte"
– M. Philippe Couillard, Quebec Premier and Minister responsible for Saguenay-Lac-St-Jean
– Mme Christine St-Pierre, Minister responsible for the Laurentians
– M. Pierre Paradis, Minister responsible for The Eastern Townships
– M. Sam Hamad, Minister responsible for Quebec City
– M. Jean D'Amour, Minister responsible for the Bas-St-Laurent & Gaspésie-Îles-de-la-Madeleine
– M. François Gendron, Abitibi-Ouest MNA
– M. Sébastien Schneeberger, Drummond-Bois-Francs MNA
– M. François Bonnardel, Granby MNA
– Mme Maryse Gaudreault, Hull MNA
– M. Sylvain Pagé, Labelle MNA
– M. Sylvain Rochon, Richelieu MNA
– Mme Manon Massé, Ste-Marie-St-Jacques MNA
– Mme Martine Ouellet, Vachon MNA
One year ago, the Quebec government announced the abolition of maintenance assistance program for the Route Verte, evaluated at $2.8 million. This program allowed for cost-sharing with municipalities crossed by the national cycle network. By launching the petition "Save the Route Verte " last August, Équiterre has thus joined more than 160 municipalities have adopted resolutions of support and many stakeholders from the business, tourism, leisure and environmental communities.
"While the Government of Quebec wants to become a leader in the climate record, it is inconceivable to fail on such a basic issue as the promotion of bicycling," said Sidney Ribaux, Managing director of Equiterre. "This budget cut is sending the wrong message to the citizens who are trying to reduce their environmental impact."
From left to right: Mr. André Leclerc, Keroul President and General Manager, Mr. Sidney Ribaux, executive director of Equiterre, Louis Carpentier, Director, Development of the Route Verte in Vélo Québec and Alexandre Taillefer, Partner main XPND Capital.
For André Leclerc, Keroul's President and CEO, "these cuts maintenance cycle network will directly affect people with limited physical abilities, which use many cycle paths of the Route Verte that are accessible, comfortable, safe."
According to Alexandre Taillefer, senior partner, XPND Capital, "the Route Verte is one of the most eloquent examples of green tourism in the world. Hundreds of hotels and lodging places and restaurants, tourist attractions, regional products, bike shops benefit from the economic vitality created by the Route Verte. A demonstration that it is possible to reconcile economic development and social and environmental imperatives."
"Cycling is a hobby for everyone, even in the safe environment offered by the bike paths, added Maurice Dupont, president of FADOQ. Our members and people 50 and older in general are major users of the Route Verte; it would be very harmful to deprive them of this infrastructure which, for a nominal amount, is probably the best investment the government can do to promote active aging. "
"The reality is that without the maintenance program of the Route Verte, some sections will not be maintained properly and will simply be closed. The impact of the abolition of maintenance assistance program is felt significantly, mainly on routes in rural areas, thus endangering the continuity of the Route Verte," said Réjean Parent, Chairman Association of cycling networks in Quebec (ARCQ).