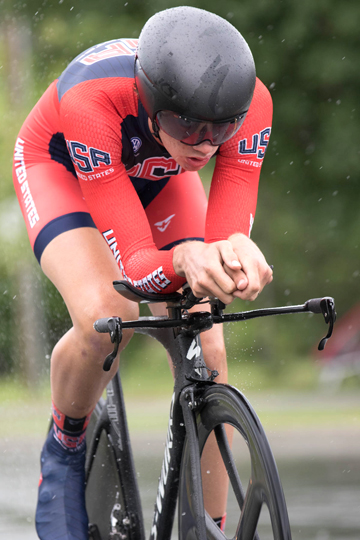 July 24, 2015 (Val d'Or, QC) – Brandon McNulty (USA) took the victory on Stage 3 of the Dejardins Tour of Abitibi, a 10.6km individual time trial. He bested second place, fellow countryman Adrian Costa (USA), by 11s. Canadian Derek Gee was 44s back for third. The victory extended McNulty's GC lead over Costa to 15s.
Stage 4
From the start, a compact group was formed and was maintained throughout the race. Even though a few breakaways were attempted, none have succeeded at creating a significant gap. A big crash in the pack at the end of the second lap finally allowed several riders to get ahead, while the victims of the fall were trying to catch back the peloton. The American Ian McShane from Hincapie Sportswear took this opportunity to break away from the pack, which earned him to win the second sprint of the mayor of Malartic.
The United States have once again demonstrated what they are capable of by winning gold and bronze in the fourth stage. Indeed, McNulty was once again on the podium, on the third step this time. His teammate Christopher Blevins for his part won the gold by sprinting in the last kilometers of this half-step. After step 4, it is still Brandon McNulty who owns the brown and blue jerseys.
"Although there was not much action, the riders were all at their maximum speed throughout this short stage" argued Bruno Gauthier, technical director of the Tour de l'Abitibi Desjardins.
Team Quebec also did well in the last two stages with several riders who finished in the top twenty. The Team Quebec rider Pier-André Côté has won 2nd place at the road stage and 5th place in the individual time trial. Côté keeps the orange jersey of points leader for one more day. As for Jean-Francois Soucy, Raphael Gervais and Laurent Auclair, they all finished in the top 15 at the individual time trial.
Results