July 24, 2014 (Amos, QC) – The second stage of the Tour de l'Abitibi Desjardins started out strong after the 16
th
kilometre, with a breakaway from the Japanese racer, Takahiro Koyama. After more than 15 kilometres of riding solo, several racers caught up to him, including cyclists from France, the United States, Denmark, Mexico, and from Team Quebec. The breakaway gave Koyama a lead of over 4 minutes on the rest of the pack at its peak, before ending with a mere 20 seconds ahead. After two hours of racing, Mathias Norsgaard Jorgenson, from Denmark, sprinted for victory, closely followed by William Barta, from Team U.S.A, and Sebastien Havot, from France.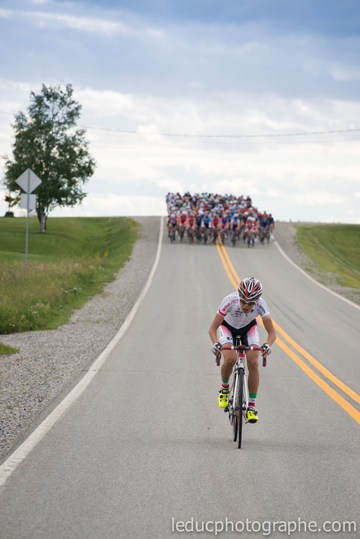 A First in 10 Years
With two podiums in hand, Denmark continues to prove itself as one of the leading teams in this 46th edition. Norsgaard Jorgenson, who was in his first year amongst the juniors, did very well during the breakaway, allowing him to win the two bonus sprints. In addition to winning a gold medal, the Dane also earned the jerseys for his lead in general ranking, lead in points, as well as for best first year cyclist. "It is the fifth time in the history of the Tour that a racer wins all three jerseys in the same stage," commented the founder of the Tour de l'Abitibi Desjardins, Léandre Normand. As for best climber, the Moroccan racer, Abderrahim Zahiri, will once again be sporting the polka dot jersey tomorrow.
Return From the United States
The United States are back in the race after ending in thirteenth position in the first stage. They who had practically won it all in the two previous editions, were confronted with strong opponents this year, yet finally established themselves, by placing second. William Barta, who was crowned best rookie in 2013, kept up with the other racers in the breakaway, for over 85 kilometres. His teammate, Adrien Costa, repeatedly succeeded in taking a considerable lead over the pack.
Two Half-Stages Tomorrow
Tomorrow morning, the racers will lead off the individual Against-The-Clock Challenge, a round trip on the road to St-Maurice, totaling 10 kilometres. Thereafter, the teams will travel to Malartic for the Fonds Essor Malartic Osisko/Ville de Malartic stage. During this 51.5 kilometre leg, the cyclists will first travel to Rivière-Héva, and then return to Malartic, after completing two laps of the Lac Malartic road.
Results
1. Norsgaard Jorgensen (Den) Danemark 02:32:20
2. William Barta (USA) États-Unis
3. Sébastien Havot (Fra) France
4. David Duquette (USA) Flagstaff Selection
5. Pier-André Côté (Can) Canada
6. Takahiro Koyama (Jpn) Japon 0:04
7. Adrien Carpentier (Fra) France 0:20
8. Quentin Valognes (Fra) Team Novo Nordisk
9. Damien Touze (Fra) France
10. David Lombardo (USA) Hincapie Sportswear Develo
11. Ahmed Amine Galdoune (Mar) Maroc
12. El Mehdi Chokri (Mar) Maroc
13. Tommy Lucas (USA) Flagstaff Selection
14. Jonah Meadvancort (USA) EL Grupo Junior Select
15. Yusuke Matsumoto (Jpn) Japon
16. Keigo Kusaba (Jpn) Japon
17. Willem Boersma (Can) Canada
18. Derek Cote (USA) MID-Atlantic Development
19. Magnus Bak Klaris (Den) Danemark
20. Guillaume Roussel (Can) Espoirs Quilicot TRJ Téléc
21. Jesper Schultz (Den) Danemark
22. Rayane Bouhanni (Fra) France
23. Laurent Gervais (Can) Québec
24. Alec Porter (USA) Northstar Development
25. Clayton Stone (USA) Flagstaff Selection
26. Francisco Lara Carbajal (Mex) Mexique
27. Chaz Lane (USA) MID-Atlantic Development
28. Abderrahim Zahiri (Mar) Maroc
29. Trevor Stothard (Can) Cycling BC
30. Zeke Mostov (USA) États-Unis
31. Jonas Gregaard Wilsly (Den) Danemark
32. Oscar Emili Serech Chan (Gua) Guatemala
33. Gavin Haley (USA) Hincapie Sportswear Develo
34. Richard Rainville (USA) Hincapie Sportswear Develo
35. Alex Lessard (Can) Espoirs Quilicot TRJ Téléc
36. Joh Canaveral Vargas (Col) Colombie
37. Mohcine El Kouraji (Mar) Maroc
38. Cuervo Montemayor (Mex) Mexique
39. Peter Goguen (USA) Race CF
40. Noah Granigan (USA) Race CF
41. Cooper Willsey (USA) Race CF
42. Harold Tejada Canacue (Col) Colombie
43. Garrett Roth (USA) ISCorp Cycling Team
44. Villalobos Hernandez (Mex) Mexique
45. Jean-Simon D'Anjou (Can) Canada
46. A Hyldgaard Jeppesen (Den) Danemark
47. Jackson Pickell (Can) Cycling BC
48. Austin Vincent (USA) États-Unis
49. Ian Haupt (USA) ISCorp Cycling Team
50. Matthew Valencia (USA) Race CF
51. Antoine Côté (Can) André Cycle-Kaycan-RDS
52. Lance Eddis-Finbow (USA) EL Grupo Junior Select
53. Daniel Yakushevich (USA) Arizona Select
54. Maxx Chance (USA) Hincapie Sportswear Develo
55. Etienne Dubuc (Can) André Cycle-Kaycan-RDS
56. Ian Mcshane (USA) Northstar Development
57. Jérémie Désilets-Jacob (Can) Espoirs Quilicot TRJ Téléc
58. Teddy Kozlowski (USA) GS Cyclelife
59. Logan Boyd (USA) EL Grupo Junior Select
60. Christian Ricci (Can) Ontario
61. Christian Santa Cruz (USA) Flagstaff Selection
62. El Mahdi Laanaya (Mar) Maroc
63. Léo Danes (Fra) France
64. Sébastien Dumont (Can) CCB-Ultime Vélo-TREK
65. Angel Carranza Urizar (Gua) Guatemala
66. Adam Alvarez (USA) MID-Atlantic Development
67. Ilyass Rabihi (Mar) Maroc
68. Zachary Nehr (USA) ISCorp Cycling Team
69. Nicholas Vorwerk (USA) Team Novo Nordisk
70. Cameron Mason (Can) Ontario
71. Charles Côté (Can) André Cycle-Kaycan-RDS
72. Diego Binatena (USA) États-Unis
73. Edward Walsh (Can) Canada
74. P Martinez Fernandez (Mex) Mexique
75. Ethan Furois (USA) Northstar Development
76. Keenan Duncan (USA) EL Grupo Junior Select
77. Alexandre Simard (Can) Vélo Mauricie
78. Gavin Alexander (Gbr) Team Novo Nordisk
79. Joshua Kropf (Can) GS Cyclelife
80. Raphael Auclair (Can) Québec
81. Mason Burtnik (Can) Cycling BC
82. Jean-François Soucy (Can) Canada
83. Franci Carratala Jorda (Esp) Team Novo Nordisk
84. Gavin Hoover (USA) États-Unis
85. Adrien Costa (USA) États-Unis
86. Justin Griffin (USA) Flagstaff Selection
87. Ben Duncan (USA) Flagstaff Selection
88. Daiki Magosaki (Jpn) Japon
89. Evan East (USA) Hincapie Sportswear Develo
90. Charles Roy (Can) IAMGOLD-Specialized
91. Niklas Larsen (Den) Danemark
92. Christophe Rivard (Can) Espoirs Quilicot TRJ Téléc
93. Bryan Boydstun (USA) Arizona Select
94. Davi Cardona Hurtado (Col) Colombie
95. Juan Pa Gaitan Alarcon (Col) Colombie
96. Connor Toppings (Can) IAMGOLD-Specialized
97. Samu Morkal Williams (USA) Race CF
98. Derek Gee (Can) Canada
99. Nicolas Barriault (Can) André Cycle-Kaycan-RDS
100. Riley Hankes (USA) Southeasten Regional
101. Victor Bourassa (Can) Québec
102. Stephan Davidson (Can) Vélo Mauricie
103. Fletcher Lydick (USA) Southeasten Regional
104. Kakeru Mizutani (Jpn) Japon
105. Daniel Lehman (USA) MID-Atlantic Development
106. Florian Maitre (Fra) France
107. Jordan Marhanka (USA) Hincapie Sportswear Develo
108. Alex Cormier (Can) Ontario
109. Arnaud Cossette (Can) Vélo Mauricie
110. Samuel Perigny (Can) Québec
111. Matthew Owens (USA) Race CF
112. Joel Taylor (Can) Cycling BC
113. Anthony Marando (Can) CCB-Ultime Vélo-TREK
114. Michael Gaines (USA) Northstar Development
115. Anders Nystrom (USA) ISCorp Cycling Team
116. Luis Rodri Godoy Ochoa (Gua) Guatemala
117. Mathieu Roy (Can) Québec
118. Hubert Laferriere (Can) Québec
119. Zach Lyons (USA) MID-Atlantic Development
120. Connor Simmons (USA) Southeasten Regional 0:38
121. Liam Dunn (USA) ISCorp Cycling Team 0:38
122. Ross Graham (Can) Ontario 0:43
123. Trevor O'Donnell (Can) Ontario 1:37
124. Louis Dallaire (Can) André Cycle-Kaycan-RDS 1:50
125. Pierre-Olivier Santerre (Can) Espoirs Quilicot TRJ Téléc 3:18
126. Max Duso (Can) Cycling BC 3:48
127. Dustin King (Can) IAMGOLD-Specialized 4:02
128. Marc-Alexandre Delage (Can) Espoirs Quilicot TRJ Téléc 4:02
129. Daichi Tomio (Jpn) Japon 4:02
130. Benjamin Hasz (USA) Southeasten Regional 5:32
131. Thomas Revard (USA) Northstar Development 5:50
132. Cordell Dickie (Can) Cycling BC 6:06
133. Cooper Rombold (USA) EL Grupo Junior Select 6:52
134. Davis Wilkey (USA) Arizona Select 6:52
135. Marc-André Perron (Can) Vélo Mauricie 7:54
136. Spencer Virtue (Can) Arizona Select 9:15
137. Mitchell Gray (USA) Arizona Select 11:56
138. Will Hughes (USA) Southeasten Regional 16:01
139. Vincent Girard (Can) CCB-Ultime Vélo-TREK 16:01
140. Jua Gonzalez Aguilera (Esp) Team Novo Nordisk 16:01
141. Tanner Browne (USA) GS Cyclelife 16:03
142. Liam Whitman (Can) Ontario 16:05
143. Philippe Mireault (Can) CCB-Ultime Vélo-TREK 16:05
144. Patrick Bourguignon (Can) Vélo Mauricie 16:07
145. Olivier Péloquin (Can) CCB-Ultime Vélo-TREK 16:07
146. Brian Gaines (USA) Northstar Development 16:07
147. Jedidiah Fritzinger (USA) ISCorp Cycling Team 16:35
148. Antoine Bouchard (Can) André Cycle-Kaycan-RDS 17:15
149. Antoine Breton (Can) IAMGOLD-Specialized 17:15
150. Alejandr Guzman Medina (Col) Colombie 18:06
151. Keane Brennan (USA) GS Cyclelife 18:59
152. Isr Covarrubias Rocha (Mex) Mexique 35:42:
153. Olivier Proulx-Fournier (Can) IAMGOLD-Specialized 56:40:
154. Félix Boudreau (Can) Vélo Mauricie 56:40:
155. Andre Nicol Bos Gürtler (Gua) Guatemala HD1:03:40
DNF Samuel Lear (USA) GS Cyclelife
DNF Kyle Kato (USA) Southeasten Regional
DNS Guillaume Lebrun (Can) CCB-Ultime Vélo-TREK
DNS Nicholas Harris (USA) EL Grupo Junior Select
DNS Jake Thompson (USA) GS Cyclelife
DNS Emerson Lindenlaub (USA) MID-Atlantic Development
DSQ Alexan Romero Moreno (Col) Colombie
DSQ Simon Ouellet (Can) IAMGOLD-Specialized
GC after Stage 2
1. Norsgaard Jorgensen (Den) Danemark 05:04:06
2. William Barta (USA) États-Unis 00:08
3. Rayane Bouhanni (Fra) France 00:09
4. Sébastien Havot (Fra) France 00:10
5. Magnus Bak Klaris (Den) Danemark 00:12
6. David Duquette (USA) Flagstaff Selection 00:14
7. Pier-André Côté (Can) Canada 00:16
8. Takahiro Koyama (Jpn) Japon 00:20
9. Léo Danes (Fra) France 00:30
10. Noah Granigan (USA) Race CF 00:33
11. A Hyldgaard Jeppesen (Den) Danemark 00:34
12. Jonas Gregaard Wilsly (Den) Danemark 00:34
13. Niklas Larsen (Den) Danemark 00:35
14. Adrien Carpentier (Fra) France 00:36
15. Damien Touze (Fra) France 00:36
16. David Lombardo (USA) Hincapie Sportswear Development 00:36
17. Jonah Meadvancort (USA) EL Grupo Junior Select 00:36
18. Quentin Valognes (Fra) Team Novo Nordisk 00:36
19. Ahmed Amine Galdoune (Mar) Maroc 00:36
20. Clayton Stone (USA) Flagstaff Selection 00:36
21. El Mehdi Chokri (Mar) Maroc 00:36
22. Keigo Kusaba (Jpn) Japon 00:36
23. Francisco Lara Carbajal (Mex) Mexique 00:36
24. Tommy Lucas (USA) Flagstaff Selection 00:36
25. Abderrahim Zahiri (Mar) Maroc 00:36
26. Willem Boersma (Can) Canada 00:36
27. Laurent Gervais (Can) Québec 00:36
28. Yusuke Matsumoto (Jpn) Japon 00:36
29. Jesper Schultz (Den) Danemark 00:36
30. Alec Porter (USA) Northstar Development 00:36
31. Alex Lessard (Can) Espoirs Quilicot TRJ Télécom 00:36
32. Chaz Lane (USA) MID-Atlantic Development Found 00:36
33. Trevor Stothard (Can) Cycling BC 00:36
34. Jean-Simon D'Anjou (Can) Canada 00:36
35. Antoine Côté (Can) André Cycle-Kaycan-RDS 00:36
36. Zeke Mostov (USA) États-Unis 00:36
37. Harold Tejada Canacue (Col) Colombie 00:36
38. Gavin Haley (USA) Hincapie Sportswear Development 00:36
39. Guillaume Roussel (Can) Espoirs Quilicot TRJ Télécom 00:36
40. Peter Goguen (USA) Race CF 00:36
41. Etienne Dubuc (Can) André Cycle-Kaycan-RDS 00:36
42. Lance Eddis-Finbow (USA) EL Grupo Junior Select 00:36
43. Raphael Auclair (Can) Québec 00:36
44. Austin Vincent (USA) États-Unis 00:36
45. Daiki Magosaki (Jpn) Japon 00:36
46. Mohcine El Kouraji (Mar) Maroc 00:36
47. Maxx Chance (USA) Hincapie Sportswear Development 00:36
48. Jackson Pickell (Can) Cycling BC 00:36
49. P Martinez Fernandez (Mex) Mexique 00:36
50. Ian Mcshane (USA) Northstar Development 00:36
51. Charles Côté (Can) André Cycle-Kaycan-RDS 00:36
52. Edward Walsh (Can) Canada 00:36
53. Florian Maitre (Fra) France 00:36
54. Davi Cardona Hurtado (Col) Colombie 00:36
55. Diego Binatena (USA) États-Unis 00:36
56. Justin Griffin (USA) Flagstaff Selection 00:36
57. El Mahdi Laanaya (Mar) Maroc 00:36
58. Sébastien Dumont (Can) CCB-Ultime Vélo-TREK 00:36
59. Gavin Hoover (USA) États-Unis 00:36
60. Riley Hankes (USA) Southeasten Regional 00:36
61. Christophe Rivard (Can) Espoirs Quilicot TRJ Télécom 00:36
62. Derek Gee (Can) Canada 00:36
63. Charles Roy (Can) IAMGOLD-Specialized 00:36
64. Adrien Costa (USA) États-Unis 00:36
65. Ben Duncan (USA) Flagstaff Selection 00:36
66. Juan Pa Gaitan Alarcon (Col) Colombie 00:36
67. Victor Bourassa (Can) Québec 00:36
68. Richard Rainville (USA) Hincapie Sportswear Development 00:51
69. Evan East (USA) Hincapie Sportswear Development 00:51
70. Fletcher Lydick (USA) Southeasten Regional 00:51
71. Ilyass Rabihi (Mar) Maroc 00:57
72. Christian Santa Cruz (USA) Flagstaff Selection 01:00
73. Angel Carranza Urizar (Gua) Guatemala 01:07
74. Adam Alvarez (USA) MID-Atlantic Development Found 01:10
75. Samu Morkal Williams (USA) Race CF 01:29
76. Luis Rodrig Godoy Ochoa (Gua) Guatemala 01:29
77. Oscar Emilio Serech Chan (Gua) Guatemala 01:37
78. Keenan Duncan (USA) EL Grupo Junior Select 01:41
79. Jérémie Désilets-Jacob (Can) Espoirs Quilicot TRJ Télécom 03:27
80. Franci Carratala Jorda (Esp) Team Novo Nordisk 03:32
81. Christian Ricci (Can) Ontario 04:12
82. Cameron Mason (Can) Ontario 04:12
83. Derek Cote (USA) MID-Atlantic Development Found 04:20
84. Matthew Valencia (USA) Race CF 04:20
85. Joh Canaveral Vargas (Col) Colombie 04:27
86. Nicolas Barriault (Can) André Cycle-Kaycan-RDS 04:34
87. Anders Nystrom (USA) ISCorp Cycling Team 05:07
88. Cooper Willsey (USA) Race CF 05:40
89. Zach Lyons (USA) MID-Atlantic Development Found 06:00
90. Logan Boyd (USA) EL Grupo Junior Select 06:10
91. Cuervo Montemayor (Mex) Mexique 06:41
92. Connor Toppings (Can) IAMGOLD-Specialized 06:41
93. Thomas Revard (USA) Northstar Development 06:46
94. Ian Haupt (USA) ISCorp Cycling Team 07:41
95. Joshua Kropf (Can) GS Cyclelife 07:49
96. Joel Taylor (Can) Cycling BC 08:03
97. Alexandre Simard (Can) Vélo Mauricie 08:09
98. Nicholas Vorwerk (USA) Team Novo Nordisk 08:09
99. Ethan Furois (USA) Northstar Development 08:09
100. Matthew Owens (USA) Race CF 08:09
101. Samuel Perigny (Can) Québec 08:09
102. Daniel Lehman (USA) MID-Atlantic Development Found 08:09
103. Jordan Marhanka (USA) Hincapie Sportswear Development 08:09
104. Michael Gaines (USA) Northstar Development 08:09
105. Connor Simmons (USA) Southeasten Regional 08:27
106. Alex Cormier (Can) Ontario 08:28
107. Kakeru Mizutani (Jpn) Japon 09:00
108. Jean-François Soucy (Can) Canada 09:09
109. Bryan Boydstun (USA) Arizona Select 10:06
110. Marc-Alexandre Delage (Can) Espoirs Quilicot TRJ Télécom 11:51
111. Hubert Laferriere (Can) Québec 13:05
112. Mathieu Roy (Can) Québec 13:18
113. Arnaud Cossette (Can) Vélo Mauricie 14:20
114. Daichi Tomio (Jpn) Japon 14:33
115. Cooper Rombold (USA) EL Grupo Junior Select 14:41
116. Davis Wilkey (USA) Arizona Select 14:41
117. Mitchell Gray (USA) Arizona Select 14:50
118. Garrett Roth (USA) ISCorp Cycling Team 15:24
119. Daniel Yakushevich (USA) Arizona Select 15:24
120. Zachary Nehr (USA) ISCorp Cycling Team 15:24
121. Gavin Alexander (Gbr) Team Novo Nordisk 15:24
122. Anthony Marando (Can) CCB-Ultime Vélo-TREK 15:24
123. Marc-André Perron (Can) Vélo Mauricie 15:43
124. Louis Dallaire (Can) André Cycle-Kaycan-RDS 15:50
125. Tanner Browne (USA) GS Cyclelife 16:19
126. Stephan Davidson (Can) Vélo Mauricie 18:29
127. Spencer Virtue (Can) Arizona Select 18:40
128. Max Duso (Can) Cycling BC 18:41
129. Liam Dunn (USA) ISCorp Cycling Team 18:47
130. Trevor O'Donnell (Can) Ontario 19:46
131. Ross Graham (Can) Ontario 20:21
132. Cordell Dickie (Can) Cycling BC 21:10
133. Teddy Kozlowski (USA) GS Cyclelife 23:19
134. Villalobos Hernandez (Mex) Mexique 23:54
135. Benjamin Hasz (USA) Southeasten Regional 26:48
136. Jedidiah Fritzinger (USA) ISCorp Cycling Team 26:49
137. Dustin King (Can) IAMGOLD-Specialized 27:01
138. Mason Burtnik (Can) Cycling BC 27:23
139. Vincent Girard (Can) CCB-Ultime Vélo-TREK 29:09
140. Pierre-Olivier Santerre (Can) Espoirs Quilicot TRJ Télécom 30:21
141. Antoine Bouchard (Can) André Cycle-Kaycan-RDS 32:19
142. Alejandr Guzman Medina (Col) Colombie 33:10
143. Jua Gonzalez Aguilera (Esp) Team Novo Nordisk 34:10
144. Antoine Breton (Can) IAMGOLD-Specialized 35:24
145. Isr Covarrubias Rocha (Mex) Mexique 36:18
146. Will Hughes (USA) Southeasten Regional 37:17
147. Brian Gaines (USA) Northstar Development 38:42
148. Liam Whitman (Can) Ontario 43:08
149. Philippe Mireault (Can) CCB-Ultime Vélo-TREK 43:08
150. Olivier Péloquin (Can) CCB-Ultime Vélo-TREK 43:10
151. Patrick Bourguignon (Can) Vélo Mauricie 44:25
152. Keane Brennan (USA) GS Cyclelife 47:17