July 22, 2014 (Amos, QC) – A large crowd was gathered in Amos today for the presentation of the 28 teams that will participate in the 46th Tour de l'Abitibi Desjardins. Many citizens came out to encourage the local team, IAMGOLD-Specialized, as well as the best sprinters from each team who fought hard during the entire race. In the end, the French rider from Team Novo Nordisk, Quentin Valognes, finished in first place, with star sprinter Adrien Carpentier from the French national team close behind.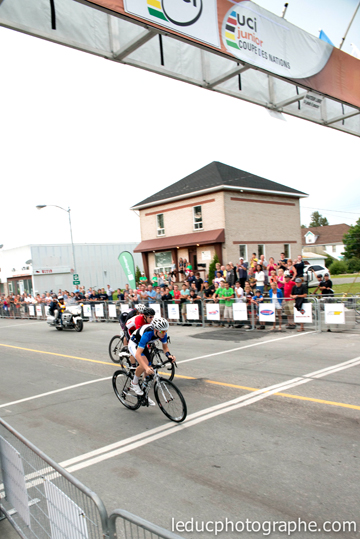 'The Challenge Sprint Abitibi is a good way of noticing the best sprinters early on in the week' commented Olivier Grondin, radio-Tour representative. Despite a strong start from the two French riders, many cyclists also stood out during this first challenge, notably Guillaume Roussel from team Espoirs Quilicot TRJ Télécom who placed in third. The Amos rider Mathieu Roy who is now racing with Team Quebec also made a good impression with a 6th position over twenty-eight riders.
Local attendance
Many citizens from the city of Amos gathered to participate in the balade populaire Desjardins, a Tour de l'Abitibi Desjardins classic. Young and old biked on the 5.4 km arrival circuit on which riders will pass over twenty times this week. Numerous local personalities were also present, including certain municipal councillors.
Tomorrow, the Agnico Eagle Stage
Tomorrow, the first and the longest stage of the 46th edition of the Tour de l'Abitibi Desjardins will take place. The cyclists will leave from the UQAT in Rouyn-Noranda at 4 :30 PM towards Amos. The cyclists will finish their race with three laps around the arrival circuit.