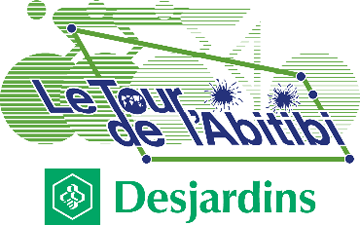 July 08, 2014 (Amos, QC) – Details surrounding the Tour de l'Abitibi Desjardins were revealed today, including the names of the 29 teams participating in the international sporting event. Indeed, more than 170 cyclists will tackle the roads of Abitibi-Témiscamingue from July 21-27.
Depending on the number of participants on site, the 46th edition may make history, as the edition with the highest number of cyclists to take part in the Tour de l'Abitibi Desjardins.
"The fact that we are once again in the International Cycling Union's (UCI) Nations Cup circuit allowed us to attract new teams, particularly national teams," stated Mrs. Suzanne Fortin, president of the Tour. Altogether, twelve nationalities will be represented by these junior category athletes, including Belize, Canada, Columbia, Denmark, Spain, the Unites States, France, Guatemala, Japan, Morocco, Mexico, and Uzbekistan. This edition will also mark the first participation from a Spanish athlete and a second participation from the Denmark team in 46 years.
An Intense Competition
To commemorate the 46th edition, nine national teams will compete for first place: the teams from Canada, Columbia, Denmark, the United States, France, Guatemala, Japan, Morocco, and Mexico. It should be noted that the United States team had won the blue, orange, and brown jerseys in 2012 and two jerseys in 2013. However, this team should be facing strong opposition this year, since the French and Danish teams are respectively in first and second place of the UCI general ranking.
As for the regional teams, 11 of the 22 registered formations originate from the United States and 9 are Canadian. Among the teams from Quebec, we can find Espoirs Quilicot TRJ Télécom, team Québec, as well as the regional team IAMGOLD-Specialized. Although the selections have not yet taken place, it is very likely that some athletes from the regional team will wind up in the provincial team, and possibly in the national team.
A Promising Edition
Sanctioned by the UCI, the Tour de l'Abitibi Desjardins is the only one of 7 competitions in the circuit of the UCI's Junior Nations Cup to be held outside of Europe. During its 45 years of history, the Tour has welcomed thousands of athletes from 40 different countries and remains an excellent springboard for cyclists aspiring to make it to the professional ranks.
Tour de l'Abitibi Desjardins 2014 Teams

NATIONAL teams
– Canada
– United States
– Japan
– Colombia – Fundación Everet
– Guatemala
– Mexico
– Morocco
– France
– Denmark
REGIONAL teams (CAN)
– Québec
– IAMGOLD-Specialized
– André Cycle-Kaycan-RDS
– Vélo Mauricie
– Espoirs Quilicot TRJ Télécom
– CCB-Ultime Vélo-Trek
– Ontario
– Atlantique
– Cycling BC
REGIONAL teams (US)
– Flagstaff Selection
– El Grupo Junior Select
– Arizona Select
– Team Novo Nordisk
– ISCorp Cycling
– Race CF
– GS CycleLife
– Mid-Atlantic Development Foundation
– Southeastern Regional
– Northstar Development
– Hincapie Sportswear Development