December 02, 2015 (Edmonton, AB) – The 45NRTH Fat Bike Triple Crown presented by Winter City Edmonton will scratch your itch for racing during the winter. Consisting of three races in total– one in December, one in January, and one in February each individual race and an overall winner for each category.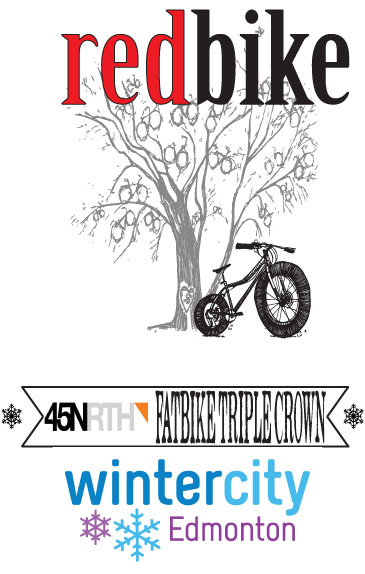 Canadians are accustomed to surviving the winter and many take to any sport that gets them outside. For the cyclist who enjoys ripping their local trail in the summertime, the Fat Bike now enhances the ability to gain the same pleasure of trail riding in the winter. Creating a sense of enjoyment, Fat Biking improves winter riding and allows people to embrace getting outside to combat the winter blaws.
Dates:
– Sunday, December 6th 2015
– Sunday, January 10th, 2016
– Sunday, February 7th, 2016
Categories/Distances
There will be 4 distances offered on each day:
– Full Crown – 56.3km
– Three Quarter Crown – 42.6km
– Half Crown – 28.9km
– Mini Crown – 15.2km
Registration Information
Pre-registration is online here.
Entry Fee
$40 per race – bring your cash to sign on each day (or debit card – we'll have a debit machine on site)
License information
All participating riders must be members of an affiliated club, or holders of a UCI license. If you are not a member of an ABA affiliated club, you may use a "One Day Tryout" for your first race. Any other events you wish to participate in for the rest of season will require a club membership.
Sign-on information
Sign on @ the Alfred Savage Centre – Race Start/Finish
Race Schedule (*Subject to Change)
– 9:00 AM – Sign on Opens
– 9:45 AM – Sign on Closes
– 9:55 AM – Staging (All Distances)
– 10:00 AM – Race Start
– 1:45 PM – 42.6 km Cut-off (3 of 4 laps completed)
– 2:00 PM – 1st Full Crown Finishers
Studded Tires
Studded tires are ALLOWED as we worked with Cycling Canada over the summer to create fatbike specific regulations.
Location
Alfred H. Savage Centre
13204 Fox Drive NW
Edmonton, AB.
Course Map
The route is approximately 13.7 km (plus the 1.5km Prologue Lap) of snow covered singletrack and double track shouldering the North Saskatchewan River facilitating Full, Three Quarter, Half, & Mini Crown race distances.
See it on Strava
Here
Prizes
Bragging rights are on the line! Plus lots of generously donated draw prizes from 45NRTH. Check the Timing Tent to see if you've won!
Inclusiveness
Although the spirit of this event is of the fat bike variety, we welcome non-fatbikers with open arms! In addition, we have the opportunity to get more bums on fat bikes as we are working on arranging for a fleet of demo fat bikes to be onsite to give people the perfect opportunity to try one out.
Directions
>From Calgary:
Follow Queen Elizabeth Highway 2 to Whitemud Freeway.
Head west on the Whitemud to Fox Dr NW.
Take the Fox Drive exit
Follow Fox Dr NW
Turn left onto Keillor Rd NW
Turn left and follow underneath Fox Dr. to arrive at the Alfred H. Savage Centre.
Contact information
Mike Sarnecki – kokaneeredbike@gmail.com
Brent Ruelling – info@redbike.ca
Tech Guide
Here
Last year's highlights
Here