June 13, 2013 (Ottawa, ON) – The bike racing tradition continues in Ottawa's Little Italy as the Preston Street Criterium returns for its 41st edition on Father's Day — Sunday, June 16, 2013. Rogers TV will be on hand to record the rough-and-tumble action as racers battle for glory and prize money in front of enthusiastic spectators lining the one-kilometre course.
The racing starts at 11 a.m. and culminates with the elite women's race at 1 p.m., the ever-popular kids' race at 2 p.m. and the elite men's race at 3 p.m.
Elite Women:
With 2011 and 2012 winner Florence Laplante-Lamarche away studying overseas, the women's race is wide open. Canadian national team member Karol-Ann Canuel (Vienne-Futuroscope) will try to take the fight to the powerful Stevens Racing p/b The Cyclery team, represented by the likes of Audrey Bernard and Catherine Dessureault. But watch out for others like Stephanie Skoreyko (Infinit Nutrition) or Véronique Fortin (Pasta Zara-Cogeas).
Kids' races:
Bring your kids down to Preston Street on Sunday and they can take part in the popular kids' races. Racing starts as young as the 50-metre under-5 category and ranges up to a six-lap event for 13- and 14-year-olds. Entry is just $10, and proceeds go to support up-and-coming local cyclists. Click here for more information.
Elite Men:
As many as four former winners will line up for the main event at 3 p.m. One year ago, Ken Ng (now riding for RealDeal/Gears p/b Fieldgate) rode away solo in the final laps to take the win just metres ahead of JS Perron (Stevens Racing p/b The Cyclery). Perron, backed by a powerful squad that includes former winners Matteo Dal-Cin (2011) and Derrick St. John (2009), will be looking for revenge this year, but the Stevens boys will have stiff competition with the likes of Jet Fuel Coffee/Norco Bicycles, Nine2FivePro.com, OCTTO/Cervelo, OGC/Opus and Ride With Rendall.
Click here for details on the race.
For more info: bikeraceottawa@yahoo.ca
See you in Ottawa's Little Italy on Sunday!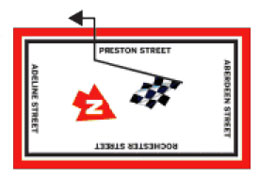 The Preston Street Criterium takes place on an ultra-fast, one-kilometre, four-corner course with the start-finish on Preston Street at Preston and Norman streets.
Racers turn left on Adeline, Rochester and Aberdeen streets before turning left onto Preston again for the sprint to the finish.
Races range from 45 minutes plus 5 laps to 75 minutes plus five laps.
Click here for more information and a video of the course.