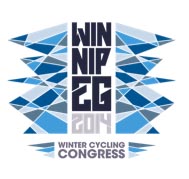 February 06, 2014 (Winnipeg, MB) – The premiere wintertime active transportation conference is coming to Canada! Join us for idea-packed sessions full of projects, unique best practices research, interactive workshops, lively discussion and fun evening activities. Professionals and delegates from snowy countries around the world are gathering to share their skills and knowledge. Come learn what it takes to create, promote, maintain and sustain vibrant bike-friendly cities through out the year.
On February 13 & 14, 2013, Oulu Finland hosted the first annual World Winter Cycling Congress (WWCC). This two day event gathered 150 guests from around the world to share ideas and methods to create sustainable cycle-friendly cities throughout the year.
Rivers West was happy to help send our very own Winnipegger, Anders Swanson, to attend the congress and to participate in Oulu's winter cycling. In Oulu, Swanson learned a lot about winter cycling. He had the opportunity to attend various workshops such as cycling route planner, better winter maintenance, winter cycling of students, analysis of bicycle crashes during winter, and more.
We are excited to announce that Winnipeg has been chosen to host the 2nd World Winter Cycling Congress! The congress will take place on February 12 & 13, 2014. At the WWCC various subjects will be discussed such as health, safety, engineering, recommendations, and much more.
Take a look at the Winter Cycling Congress website to find out more about sponsorship opportunities, the program, and to register!
To take a look at an online copy of the movie, Winter Cycling for Everyone, created by Anders Swanson, click here.
To find more information on best practices from around the world, or to stay in touch with WWCC, please check out wintercycling.org.
To register for Winter Bike to Work Day February 14,2014 or for more details on this event, please visit winterbiketoworkday.org.