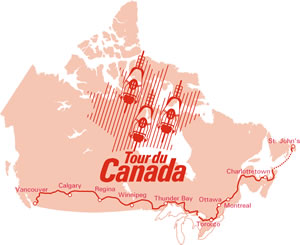 June 27, 2013 – Canada's Governor General, His Excellency the Right Honourable David Johnston, has written a letter of support to the participants of the 25th Anniversary edition of the Tour du Canada, which saw riders begin their journey from Vancouver, B.C., to St. John's, Nfld., through all 10 Canadian provinces, on June 19. They will reach the finish on August 30. Read the letter here.
Tour du Canada, the ride, is a shared experience that allows participants to see Canada on a human scale and meet people from across the country. Being part of a group provides individuals with the confidence and resources to attain their goals and makes possible a trip that many would not contemplate on their own. Participants become part of a close-knit community that moves across the country during the summer. Riders are expected to have an active role in the trip and pool their skills, according to their abilities. The trip is designed to be affordable to a broad range of participants and a bursary program is available for younger riders.
– The Route — From Vancouver, B.C., to St. John's, Nfld., through all 10 Canadian provinces.
– Dates for the 25th anniversary ride — Start: Vancouver, June 19, 2013 Finish: St. John's, August 30, 2013
– Number of Riders in each year — Between 12 and 65 annually since it was first held.
– Number of Participants, 1988 to 2012 — 837.
– Age Range, Participants to 2012 — 14 to 73.
– Number of Riders in 2013 — 25
– Gender, All Participants — Approximately 1/3 female and 2/3 male.
– Geographic Distribution of All Participants:
Canada — B.C., Alberta, Saskatchewan, Manitoba, Ontario, Quebec, New Brunswick, Prince
Edward Island, Nova Scotia, Newfoundland and Labrador (both regions),
Abroad — Australia, Austria, England, France, Germany, Hong Kong, Italy, Ireland, Japan, Kenya, Mexico, New Zealand, Northern Ireland, Scotland, Switzerland, Taiwan, The Netherlands, U.S.A.
– A Brief History — Founded by Bud Jorgensen in 1987. First ride was staged in 1988. Run annually since then, except for 1995. Participants sign on for the entire ride.
– Route Summary — Through the Fraser Canyon, Rogers Pass and Kicking Horse Pass; north of the Trans-Canada across the Prairies; Highway 11/17 around Lake Superior; across Manitoulan Island to southern Ontario; country roads to Ottawa; along the Ottawa, Richelieu and St. Lawrence Rivers to the Gaspé; along the Acadian Coast; across Cape Breton; ferry to Argentia and across the Avalon Peninsula.
Mission Statement:
Objectives of Tour du Canada
1. To encourage, conduct and promote interprovincial bicycle tours in Canada;
2. To encourage, conduct and promote complementary education and information programs that further a general interest in cycling;
3. To help ascertain, defend and protect the rights of cyclists.
More info about the Tour du Canada at www.tourducanada.com.