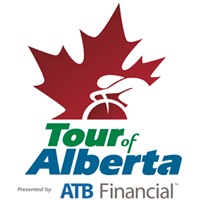 April 15, 2016 (Edmonton, AB) – The Tour of Alberta presented by ATB Financial announced its fourth installment, set to hit Alberta roads September 1 through 5, 2016.  The Tour will make stops in eight official host communities this year, and multiple pass-through communities, as the peloton races from Southern to Central Alberta over the span of five days.
"Our host communities are really an integral part of the success of the event," said Duane Vienneau, CEO of the Tour of Alberta presented by ATB Financial. "We truly have a lineup of world-class host communities. We are so grateful for the hard work communities do at the local level to help make this elite international event a success."
Stage 1 will kick-start the 2016 event in a city that is familiar with the Tour, Lethbridge, on Thursday, September 1. A tremendous host community in 2014, Lethbridge, whose hilly circuit, thrilling entertainment lineup, and outstanding community support outshone the unseasonably wet weather, is a great community to kick-off the Tour in Southern Alberta.
"We are once again excited to welcome racers and spectators to Lethbridge as part of the Tour of Alberta event. The natural beauty of our city will provide a scenic backdrop to this word-class event and we look forward to showcasing Lethbridge to TV viewers across the globe.  As we host this year's prologue, I hope citizens of all ages will be inspired and gain a greater interest in cycling themselves as a way of embracing a healthy lifestyle," said Mayor Chris Spearman, Lethbridge.
The peloton will begin Stage 2 in Kananaskis, which is celebrated as "Alberta's Mountain Playground" with over 50 interconnected provincial parks and recreation areas. Known for its pristine natural setting and active outdoor lifestyle, K-Country, as it is referred to by the locals, will be a scenic start location prior to cyclists heading north to their final destination on September 2; the peloton will ride through Mountain View County, nestled against the picturesque foothills of the Canadian Rockies, as they make their way to one of Alberta's esteemed college-towns, Olds, which is centrally located along the busy QEII corridor.
"The Tour of Alberta is a blend of sport and culture. Hosting a dynamic event such as this can only come together through strong collaborative efforts, and the Town of Olds is thrilled to work with our community partners to add a blend of  the picturesque Mountain View County  and 'Olds Fashioned Hospitality' to the Tour of Alberta," commented  Mayor Judy Dahl, Olds.
"We're excited to showcase our scenic county off to the viewing public as we welcome these world-class athletes to our community. We think our landscapes will serve as a perfect backdrop for the riders as they make their way towards the finish line for the stage in Olds. We're also proud to partner with the Town of Olds, plus the many community groups and businesses that will come together to make this stage of the Tour of Alberta a huge success," said Reeve Bruce Beattie, Mountain View County.
The Stage 3 race on Saturday, September 3, will be contested within Alberta's Heartland. Appropriately starting in a town known as the place "Where Adventure Began" with its rich, dramatic history founding the site, the race will start in Rocky Mountain House in partnership with Clearwater County. The peloton will then travel up 'Cowboy Trail' to its finish destination, formerly known as Powerhouse, the quaint town of Drayton Valley.
"The Town of Rocky Mountain House is looking forward to being a Tour of Alberta Host Start Community and welcomes the world to our beautiful and scenic Town within the foothills of the Rockies," remarked Mayor Fred Nash, Town of Rocky Mountain House.
"The Tour will have some challenges with a few of our hills, but the cyclists will love very minute of the scenery.  We are very excited to host such a world class event," said Reeve Pat Alexander, Clearwater County.
"We are thrilled to be a host community of the Tour of Alberta in 2016.  Drayton Valley is a strong, active and resilient community. We are looking forward to showcasing our hospitality and community spirit to the province, the country and the cycling world," added Mayor Glenn McLean, Drayton Valley
On September 4, Alberta's capital city, Edmonton, will inevitably be an exciting, action-packed day for cycling fans alike; the finish location of the Tour's Stage 4 is also the site where the ITU World Triathlon Edmonton will take place earlier in the day. As a part of Edmonton's Race Week festivities, the ITU World Triathlon Edmonton and Tour of Alberta will both share the site at the charming Hawrelak Park, where fans can cheer on both the Tour of Alberta's professional cyclists and the ITU World Triathlon Edmonton's triathletes in one spot. Additional details on entertainment programing and a detailed competition schedule will be available at a later date.
"With 2016 our fourth year as host, Tour of Alberta is now a staple in Edmonton's event calendar – adding to our reputation as a welcoming, high-calibre sporting event host and sports tourism destination," commented Mayor Don Iveson, Edmonton.
The final day will be hosted in Edmonton at Churchill Square, utilizing the iconic course featuring a 121 kilometer 11 lap circuit through the city's downtown core. The notorious course is remembered by the upset in the standings it created in 2014, catapulting Orica-GreenEDGE's Daryl Impey into first place donning the Province of Alberta Leader jersey after being awarded time bonuses in the final stage in addition to the daunting Bellamy Hill climb 11 times.  The thrilling Stage 5 circuit has proven to be both an electrifying spectacle for fans and a competitive course for the cyclists.
Exact routes and course maps will be released at a later date.
"It is no secret that the province as a whole has suffered economically this year," says Alberta Peloton Association Chairman, Jared Smith, "As a result of the unscrupulous economic situation, the Alberta Peloton Association made the difficult decision to decrease to a five day Stage race; we empathize with the Tour's prospective host communities and partners who have been hit hard by Alberta's decline in the economy. We are looking ahead to 2017 and beyond when we will return to a six day event."
Course Summary
– Thursday, Sept. 1: Stage 1 – Lethbridge
– Friday, Sept. 2: Stage 2 – Kananaskis to Olds in partnership with Mountain View County
– Saturday, Sept. 3: Stage 3 – Rocky Mountain House in partnership with Clearwater County to Drayton Valley
– Sunday, Sept. 4: – Stage 4 – Edmonton
– Monday, Sept. 5: Stage 5 – Edmonton
Quick Facts
– Type of Teams: Elite Professional
– Number of teams/Athletes per team: 15 (8 cyclists per team)
– 2015 Leader Board: Province of Alberta Leader Jersey | Bauke Mollema | Trek Factory Racing, SUBWAY Sprint Jersey | Michael Matthews | Team Orica-GreenEDGE, Go Auto King of the Mountain Jersey | Benjamin Perry | Silber Pro Cycling, ATB Financial Best Young Rider Jersey | Adam Yates | Team Orica-GreenEDGE, Pomeroy Inn & Suites, Best Canadian Jersey | Mike Woods (CAN) | Optum p/b Kelly Benefit Strategies, Simson Maxwell Power Jersey |, Cesare Beneditti | Team Bora-Argon18
– Sanctioning Body: Canadian Cycling Association, Union Cycliste International (UCI)
More information can be found here.