March 31, 2016 (Saint-Augustin-de-Desmaures, QC) – Mr. Louis Garneau, President and Founder of Louis Garneau Sports, and Mr. Benoît Robert, President and CEO of Quebecor Sports and Entertainment Group, are proud to present the 2016 edition of Garneau-Quebecor UCI Continental America professional cycling team.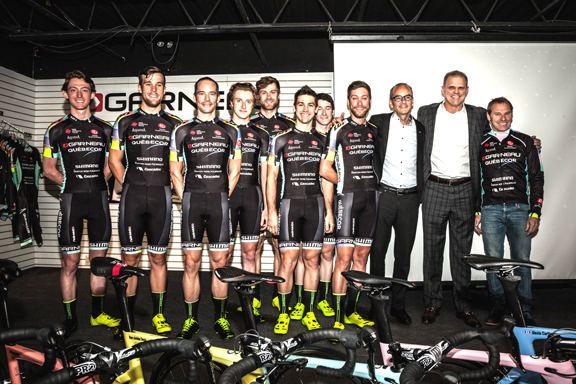 This 2016 edition, which consists of 9 riders, 7 of whom are Quebecers and 2 from Australia, will again this year be piloted by its 2 co-Captains, veterans Remi Pelletier-Roy and Bruno Langlois. Simon-Pierre Gauthier, who has been with the team for 4 years, and Olivier Brisebois and Marc-Antoine Soucy, who both have been with the team for 2 years, are back with the St-Augustin-de-Desmaures lineup, while David Boily, 25, Alexis Cartier, 24, and Australians Michael Rice, 19 and Darcy Woolley, 22, are joining the team for a first season.
Among our newcomers, Woolley boasts a victory at the time trial of the Anchor Point tour of the South West 2014, a victory at the criterium (stage 3) of the Tour of East Gippsland 2014 as well as a 3rd place at the Phillip Island Spectacular Road Race, all of which were held in Australia. For his part, Rice illustrated himself with a win at the Australia National Championships U19 in 2013, and 7 results among the first 10 positions in 2014, most notably a 2nd place in Borloo, Belgium.
A solid team spirit unifies the riders: "The training camp in Florida went really nicely, enabling us to reunite for the first time this season. Four new faces are on board for the 2016 season and they have well integrated into the already close-knit team. We were able to get some good mileage under our belt on the occasion of the Garneau Florida Granfondo on March 20, and we are impatient to start racing in Canada and the United States over the next few weeks," declares co-Captain Rémi Pelletier-Roy.
For his part, Louis Garneau has never lost his enthusiasm and continues to help young cyclists in progressing in their sport and to achieve their dream: "My goal is to help young cyclists to get to the upper levels of competition, i.e. a Pro Tour team, but without forgetting about studies…because there is a life after the bike.
This year, I have decided to help David Boily, a great pro rider from Quebec City who had to stop competing for health reasons."
David raced for 3 years at the professional level with the now defunct Spidertech team and his most noteworthy feat was a great performance at the Tour de l'Avenir 2011, where he finished in second place overall.
« Our team is an organization which helps young riders to attain their dreams, but it is also a team which helps an injured athlete to come back to high level competition, » adds Louis Garneau.
"Quebecor is happy to have been supporting team Garneau-Quebecor's cyclists for 5 years now," mentioned Benoît Robert, President and CEO of Quebecor Sports and Entertainment Group. "We are proud to encourage these athletes, who are examples of determination, so they can achieve their dreams".
The team's race program is well-lined, as evidenced by the Joe Martin Stage Race (Arkansas), on April 21-24, the Tour of the Battenkill (Greenwich) on May 21, the Philadelphia International Cycling Classic (Pennsylvania) on June 5, the Grand Prix Cycliste of Saguenay, on June 9-12, the Tour de Beauce, on June 15-19, and the Tour de Delta (BC), on July 8-10, which all figure in the team's schedule.
Several other races are on the calendar and you will be able to follow the team and see their results on Facebook – Twitter – Website.